Sprinkler with a built-in natural turf sod cup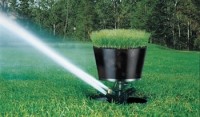 The M-115 is a powerful long-throw sprinkler with a built-in natural turf sod cup for use on all parks and large sports fields, including football, soccer and baseball venues. Underhill's M-115 features a 115-foot throwing radius and an 8-inch pop-up height. The sod cup is 4 inches deep and holds a 9-inch wide section of natural grass. It is available as a valve-in-head or block model.

The M-115 can be installed on either natural turf or synthetic fields and virtually disappears when not in use, a feature that provides protection against vandalism and damage from mowing equipment. The resulting seamless playing surface improves field performance and safety, helping to prevent sports injuries.

The M-115 part-circle heads are adjustable from 30 to 360 degrees and can be switched into full-circle mode to syringe the infield and warning track areas.