Oscillation and vibration in same drum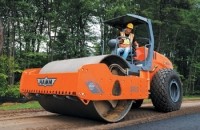 The Hamm 3412 VIO combines – for the first time in North America – revolutionary Hamm Oscillation Technology with conventional vibration technology in a single drum.

The drum achieves an oscillation and conventional vibration frequency of 1,980 vpm, with an oscillation and centrifugal force of 64,575 pounds.

With a drum width of 84 inches, the 3412 VIO has a travel speed of 7.4 mph and 131 horsepower. With ROPS it has an operating weight of 26,433 pounds.

Oscillation compaction works by imparting a horizontal or rocking force into the base material, side-to-side, rather than by forcing it downwards by an up-and-down motion. The drum never leaves the material.

Unlike traditional vibratory compactors that achieve compaction by bouncing the drum on the ground, somewhat like a Marshall hammer; nonaggressive oscillation technology ensures that the roller drum maintains constant contact with the ground for faster, more effective compaction. In the 3412 VIO, movement of exciters with in the drum changes its direction of effect during one turn, so they generate an oscillating or rocking movement of the drum, much like a gyratory compactor.

Horizontal forces are transmitted from the drum into the surface. The result is better compaction in fewer passes, with less vibration-related wear and tear on operators and surroundings.

The unique technology of the 3412 VIO allows the operator to choose vibration or oscillation compaction, whichever is better suited for the soil or surrounding conditions.

The dramatic 3000 Series of single-drum soil compactors from Hamm Compaction Division gives contractors a whole new way to compact earth and satisfy customers. The 3000 Series has been designed from the ground up with input from dealers and customers the world over.