High frequency vibration assures good compaction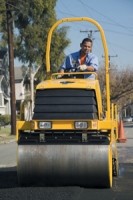 Multiquip's tandem and combination vibratory rollers are available in the 1.5- to 4-ton weight class. There are 10 diesel-powered models in the AR Series with drum widths from 32 to 51 inches. Centrifugal forces range from 2,922 pounds on the AR-16 to 8,093 pounds on the AR-40.

Standard features include folding ROPS, dual frequency and amplitude, back-up alarms, pressurized water systems with dual filtration, noise attenuation, sliding seats, 100 percent side clearance through full flush drums, drum offset and lockable instrument panels.