High torque and traction for better compaction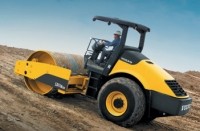 Volvo's SD116DX and SD116F soil compactors feature high-torque; drum and axle drive motors; the Ultra-Grade traction system; and a six-cylinder, 155-hp (115.6-kW) engine. Industry-leading amplitude coupled with five frequency settings, exclusive to Volvo, provides increased compaction depth and versatility on various soil conditions.

Both SD116 compactors feature two drum configuration options. The SD116DX smooth drum model, with an operating weight of 23,930 pounds (10,852 kg), is ideal for compacting granular soils. The SD116F padfoot model, designed for compacting cohesive-type materials, weighs 25,050 pounds (11,360 kg). Both machines have an 84-inch (2134 mm) rolling width.

The SD116DX compactor can easily be converted from a smooth drum to a padfoot drum machine by using the patented Volvo two-piece, clamp-on, padfoot shell kit. This optional kit offers contractors versatility on cohesive and non-cohesive materials with one machine. The SD116 machines are engineered to increase compaction production with a high centrifugal force – 61,000 pounds (271 kN). The SD116DX smooth drum model reaches nominal amplitude of 0.076 inches (1.92 mm); the SD116F padfoot model reaches 0.087 inches (2.21 mm).