Heavy-duty dirt rollers with new traction control system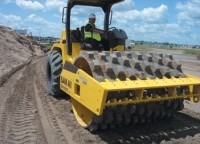 The Sakai SV510-III Series of 84-inch single drum compactors are designed for high yardage compaction jobs on a wide range of soil types and rockfill – highway and airport sub-bases, embankments, dams, reservoirs, and large commercial tracts. There are four model variations. A smooth drum model, the SV510D-III, is designed for rock and granular materials while the padfooted SV510T-III is most useful on cohesive materials, silts and clays. This latter model is also available as a TB version with a strike-off blade that eliminates the need for additional backfilling equipment and labour. The TF version includes a padfoot drum encased within a bolt-on smooth drum shell that can be removed when working on cohesive soils. This unique design keeps the diameter of the padfoot at optimum size when the smooth shell is removed. This major design consideration enables a drive system without the surges presented by the alternative method – that of a padfoot shell over a smooth drum.

With high centrifugal forces and amplitudes to 0.09 inches, these machines can make quick work of materials placed in even the thickest lifts. All models come standard with dual amplitude, a productive feature on applications such as soil cement. A new traction control system provides increased gradeability, handling slopes up to 62 percent. The steering system is positioned on the centre point of one of the strongest articulated hitch designs in the industry. With an average of over 12,000 pounds connected to either side of the hitch, this becomes a key safety factor.

The Sakai patented shock isolation systems are completely independent of the drum drive system. Located between the chassis frame and the drum drive motor, the shock isolators reduce the transmission of vibration back to critical machine components and the operator.

The SV510-III Series machines are powered by a Tier III, 148 hp Cummins Model QSB4.5 water-cooled, turbocharged diesel engine. The engine is mounted on rubber isolators to provide added vibration protection.