InstaPrime Series moves up to 3,500 gallons a minute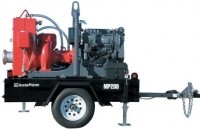 The InstaPrime Series from Multiquip moves up to 3,500 gallons per minute in model sizes ranging from six to eight inches They excel in dewatering, sludge, sewer bypass and well point jobs performed by pumping contractors, municipalities and rental operators. The InstaPrime pumps feature a patented screw-type impeller for increased flow using the same horsepower as many competitive models. The pumps eliminate the need for wear parts and each is fitted with a 150-gallon fuel tank for extended continuous run times of up to 72 hours. Powered by 43 and 60 horsepower Deutz diesel engines, these models run at 1,800 rpm and showcase heads of up to 135 feet. They also generate lift of 30 feet in only 30 seconds. Other highlights include: drain valves in pump and priming system to eliminate the risk of water freezing in the unit, water lube vacuum pump to prevent oil leaks and other unwanted priming discharge and the ability to handle solids up to 3.6 inches.

Suction hoses, quick disconnect fittings, and discharge hoses are among the accessories offered with each InstaPrime model. Other standard equipment includes a LOFA panel with shut down indicator lights, lockable vandal cover, maximum PRM limiter and complete engine gauges.