Centrifugal, friction, axial forces work in concert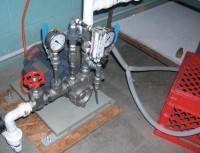 The NIKUNI pump generates highly saturated dissolved air efficiently and reliably in clean and dirty streams. The pump's many benefits typically provide two to nine-month project justifications.

The innovative design uses three types of forces to generate high pressure in a single pass. A symmetrical blade design on either side of the impeller generates three forces. A friction force pushes the liquid in the direction of rotation. A centrifugal force swings the liquid out in the crosswise direction of rotation. An axial force pushes the liquid to both sides of the impeller. In concert, the three forces cause a complex vortex to form which provides the air dissolving action and high pressure desired. Because there is no metal to metal contact at the pressure generating point, fine slurries do not cause premature failure.The result is a constant, stable, high-pressure flow in a compact design. Because of the simple limited component structure, inspection and replacement of parts is easy. The pump has the ability to self-prime and operation is quiet.
Company info