New line of vacuum-assisted dewatering pumps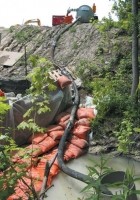 Aquatech Dewatering Company has launched a new line of vacuum-assisted dewatering pumps to the North American market.This pump, primarily designed as a wellpoint pump, can also be used for surface water control and creek/stream bypass pumping.The pump is manufactured by Hudig Pumps in Germany and has an advanced design, energy efficiency, low to no operating maintenance requirements, and overall reliability in an environmentally friendly operation. Highlights include: • Diesel pump models consuming as low as one litre (0.26 gallons) of diesel per hour.

• Electric models designed to automatically operate the pump, consuming only the power required to discharge the actual water encountered: as the discharge volumes drop so does the power consumption.

• Electric models also come equipped with a built in automatic standby pump and vacuum to address critical long term dewatering operations.

• Oil-less vacuums for sensitive environmental operation, no consumption and no exhaust of any lubricants during operation, also resulting in extreme maintenance efficiency. This vacuum wellpoint pump is the culmination of all the requirements needed to address construction dewatering requirements in a variety of applications.