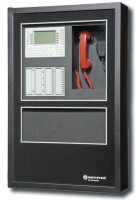 The ONYX Digital Voice Command (DVC) digital audio evacuation, paging and firefighter's telephone system uses eight channels of quality audio to deliver live, high-quality emergency paging while simultaneously broadcasting multiple, distinct messages throughout an entire facility or to selected areas.

The system provides critical information or instruction in an emergency, ensuring the right people have the right information during a smoke, fire, chemical spill or weather event. ONYX DVC comes standard with preprogrammed paging groups so that in an emergency, each group of building occupants receives the information most relevant to them. While evacuation areas receive detailed instructions for exiting the building, inactive areas are simultaneously informed of a potential emergency.

With seamless integration into NOTI-FIRE-NET, NOTIFIER's intelligent fire alarm network, multiple digital voice commands can be networked together, adding scalability and enhancing system survivability. ONYX DVC also features up to five channels of firefighter's telephone operation for communication between emergency responders. From any of five areas of the building, fire service personnel can simultaneously report crucial information to central command.