Containment units isolate hazardous materials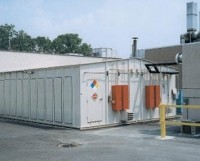 Safety Storage containment units specially designed to house volatile fuel test chambers and equipment are used to isolate the hazardous material testing laboratory from other departments on an industrial campus to underscore a corporate commitment to safety. Executive management and corporate investors minimize risk and gain peace of mind by fully containing gas cylinders and containers of corrosive, flammable and combustible liquids, such as those involved in research, development and testing of engines and turbines. These materials are safely confined within a custom engineered, pre-fabricated, Safety Storage hazardous material containment system.

The research and testing unit features a two-hour fire-rated construction with explosion-proof mechanical ventilator and explosion relief panels. Additional safety features within the enclosed testing operation include hazardous location lighting and HVAC components, as well as dry chemical fire suppression. Optional gas cylinder racks, heating and cooling systems and a gas detection sensor are offered to optimize worker safety. Other options include automatic water sprinkler systems, exterior warning lights and easy-access loading ramps.
Company info