Heavy duty conduit covers protect open ends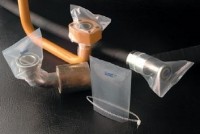 Conduit Covers are heavy-duty polyethylene bags with flexible tie straps that are designed to be flexible and adaptive. The patented Conduit Cover product line provides alternative solutions to covering and protecting the ends of all types of open hoses, tubes, lines, pipes, and fittings from pneumatic lines to hydraulic split flange ends.

Applicable to a variety of industries, the Conduit Cover substantially reduces labour and material expenses by eliminating the time and cost associated with storing, managing, and sizing current protection devices such as plastic caps, plugs or tape. Conduit Covers are offered in a four-inch-wide version that covers conduits from 2.5 inches in diameter and down, as well as eight and 12-inch covers. The protective covers come packaged in a heavy duty slide-seal poly bag that eliminates the need to purchase and manage divider storage boxes.The slide seal packaging bag can be conveniently stored in a service truck, tote tray, or shop. Conduit Covers are easy to install, thus reducing the amount of time it takes to properly protect open lines. Conduit Covers can significantly extend the life of valuable machine components by reducing contamination-related wear. They also contain small amounts of residual oil or liquid that might remain in a hose or line after disassembly thereby reducing the likelihood of ground contamination.