In-Viro-Drum effective in cleaning up oil spills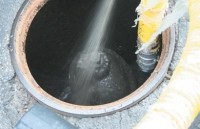 When environmental damage, and the health and safety of employees or local residents are at risk, rapid response and recovery is the only choice. The AB-CAN In-Viro-Drum is a spill recovery unit that has been used successfully in a wide variety of applications where failure is not an option. First-time users are always amazed by the suction power demonstrated by the In-Viro-Drum, the company says. The design of The In-Viro-Drum makes each unit compact and easy to transport. It can be mounted on light trucks, light tandem trailers, ATVs, light water vessels, skids, or flown by helicopter to remote spills. In most applications, a single operator is all that is required.

The hazardous spill management capabilities makes the In-Viro-Drum an investment that brings an immediate return by reducing or eliminating risk. Any liquid, regardless of its viscosity, slurries, powders, or small solid particulates can be quickly "sucked up" by the unit and deposited into container vessels. A variety of containment vessels, including 45-gallon drums, can be used to deposit waste ready for safe disposal.