Descaler removes deposits from water-operated equipment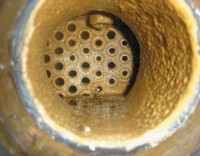 Dynamic Descaler is a unique formulation designed to dissolve and remove even the most difficult water scale, lime, rust and mud deposits from all types of water-coolers, water-heated and water-operated equipment. Dynamic Descaler has been tested worldwide and proven to be stronger, faster, and lower in corrosion rates than competitors. Dynamic Descaler is one of the strongest, fast-acting yet safest scale deposit removal chemicals in the world; the company says it has test results and approvals from companies world-wide as proof. The product is free from coal tar, and with an extremely low corrosion rate it can be easily handled by personnel – and is clean and safe to equipment and to the environment.

Water scale on any heat transfer surface reduces the effectiveness of that heat transfer. This results in reduced equipment efficiency while increasing energy consumption, increasing costs and even increasing plant downtime. Mechanical removal requires extensive downtime while equipment is disassembled, then reassembled. Corrosive acid cleaners, such as concentrated hydrochloric acid, raise occupational health and safety concerns and disposal problems as well as the significant risk of long-term detrimental impact on plant equipment life from metal loss. Dynamic Descaler is a new technology specifically formulated to rapidly clean mineral scale from passages in water-cooled or heated equipment with optimum safety, fast speed for minmal downtime, efficiency and is friendly to the environment. It improves plant efficiency, lowers cost, conserves energy, decreases downtime, and extends the life of equipment.
Company info