Volvo rolls out new pipelaying machines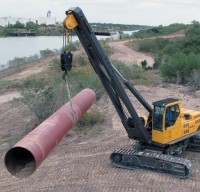 The first Volvo pipelayers have arrived in North America. The Volvo PL4611, one of five models in the new product class of pipelaying machines developed by Volvo Construction Equipment, is in full production and available now for the North America market. The second model in this class of heavy-duty, purpose-built equipment, the Volvo PL4608, will go into production in November with first delivery dates set for December 2008.

Based on the Volvo excavator design, configuration and engineering, the new Pipelayer provides a 360-degree swing with full lifting performance and functionality at all radius positions – a function unattainable with conventional side-boom pipelay-ers. The Volvo PL has a wide gauge, lower centre of gravity, and a lifting platform where the boom is mounted inboard of the track frame and closer to the machine's centreline for extraordinary stability and much higher lift capacities – up to 29 percent higher – than conventional equipment. Lift capacities range from 20 metric tons to 150 metric tons, originating from a patented adaptation of Volvo excavator machines combined with modern lifting technology. (The largest Volvo PL model, the Volvo PL7015 that will be on the market early in 2009, has a 150 metric ton maximum lift capacity, a capacity 41 percent higher than the largest pipelaying side-based dozer.) Volvo Pipelayers also have significantly longer booms that offer higher hook height for better work positioning – or in working further away from the trench to avoid caving in side walls. Boom lengths range from 30 feet to 38 feet, depending on model size.

The Volvo Pipelayers are fitted with an on-board Load Management System (LMS) designed to enable the operator to determine what he can safely pick up depending upon the angle of the boom, the cab's position relative to the tracks, and the incline on which the machine is operating.