Ditch Witch RT75 and RT95 offer more power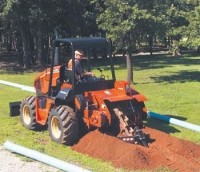 The Ditch Witch organization has upgraded its RT70 and RT90 heavy-duty tractors with emissions-compliant engines that provide greater horsepower and require less maintenance. In addition to the new John Deere engines, the Ditch Witch RT75 and RT95 models also feature improved air-intake, fuel-filtration, and cooling systems.

The RT75 and RT95 are designed for a full range of underground construction work, including agricultural irrigation projects and the installation of commercial sprinkler systems, power and communications cable, and natural gas, water and sewer distribution lines. With John Deere engines, these machines are also designed to work longer between maintenance intervals. By using recommended lubricants, the operator can safely work for 500 hours between oil changes. With other engine lubricants, a change is required every 250 hours.

Both the RT75 and RT95 come standard with enhanced cruise control, which automatically adjusts engine speed to match soil conditions. Each machine can be equipped with either a hydrostatic or powershift transmission, and also can accommodate the innovative Ditch Witch Trench Depth Meter, which enables the operator to monitor the depth of the trench and adjust the digging attachment from the comfort of the operator's station. The RT95 offers an optional tilt frame that enables the operator to dig vertical trenches on sloping ground.