Deere rolls out two new wheeled excavators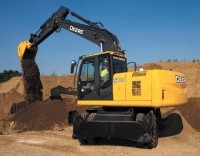 John Deere's two new wheeled excavators, the 190D W and the 220D W, feature Tier 3-certified engines and significant increases in horsepower, weight and digging forces over their predecessors.

Both units have fuel-efficient 5.2-L diesel engines rated at 159 hp, with the 190D W weighing in at 44,974 pounds and the 220D W at 51,368 pounds when both are equipped with two-piece booms and front and rear outriggers. In addition to its heavier operating weight, the 220D W has a greater dig depth at 20 feet, 8 inches, and more digging forces. The 190D W and 220D W are also available with mono booms for long-distance work and blades for backfilling. "Whether your job calls for the 19- or 22-metric-ton machine, you can drive from site to site quickly, with a maximum speed topping 23 mph and a lot more maneuverability than a tracked excavator," said Mark Wall excavator product marketing manager for John Deere. "The 190D W and 220D W are highly productive in digging ditches, repairing streets and sewers or moving Jersey barriers." On the 220D W, wider axles and the additional weight provide more stability and lift capability for quickly moving Jersey barriers.

The 190D W and 220D W have Deere's exclusive Powerwise III engine/hydraulic management system that maximizes engine output and delivers smooth, predictable multi-function operation while saving fuel. One work mode makes it easy to be productive in any application. The two-speed Powershift transmission shifts smoothly on the go from low to high. Downshifing isn't a problem either since the transmission will only shift within certain travel-speed parameters – protecting both the operator and the drivetrain.

Changing hydraulic flow is easy when you use the LCD monitor to observe the flow. You can accommodate a variety of attachment needs, right from the seat. Also, joystick controllers come pre-fitted for auxiliary controls, so it's easy and inexpensive to add auxiliary hydraulics. The units come standard with low-flow medium-pressure assist hydraulics for operating thumbs, rotators or tilt buckets.

Rigid, reinforced D-channel side frames resist impacts, providing maximum cab and component protection. Welded bulkheads within the boom resist torsional stress for long-term durability. Heavy-duty covers on the oversize outriggers help protect the hydraulic cylinders from damage.