More powerful and versatile Cat 315D L excavator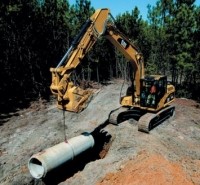 Caterpillar's new 315D L excavator is a high-performance, easy-to-operate machine that delivers five percent more horsepower and as much as eight percent more lift capacity than the 315C L, which it replaces. Higher hydraulic pressures boost performance and efficiency, and the new 115-horsepower (86-kilowatt) engine meets U.S. EPA Tier 3 emissions regulations and delivers more work per gallon of fuel.

A number of new features extend versatility. The machine leaves the factory ready for fast, economical installation of auxiliary hydraulic circuits, making it an ideal choice for users who do many jobs with one machine. The Cat Tool Control System stores hydraulic flow and pressure information for as many as 10 different work tools. The tools can then be used at the touch of a button. As on the 315C L, work and power mode switches have been replaced with an automated boom and swing priority function that selects the proper mode based on joystick movement. This feature helps less experienced operators and veterans work more productively.

An economy mode reduces fuel consumption in light-duty applications, while maintaining high bucket forces and lift capacity.