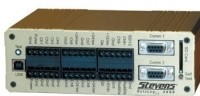 The DataLogic 3000 data collection platform is ready to meet environmental managers' data acquisition, processing, control (SCADA) and communications requirements.

The DL3000 offers two gigabytes of internal memory, allowing a large number of readings to be kept over a long period of time. A removable SD card allows data to be easily offloaded from the logger.

Communication options include analog, pulse, RS 232, RS 422/485, CAN Bus, USB 2.0, Ethernet (TCP/IP) and more I/O options. The DL3000 is IP addressable, allowing the logger to be accessed over the Internet. Optional cellular, radio, and satellite telemetry.

An optional camera attachment allows the DL3000 to capture images or video of events based on preset alarm conditions, providing additional information beyond sensor readings.
Company info