Liftstation backup pump solves sewage pump failures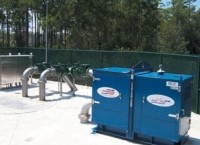 Customers replace their traditional emergency backup systems – a generator with an automatic transfer switch – with a Thompson diesel-driven dry prime pump. This independent unit is a more cost effective solution to traditional pump station problems such as sewage pump failures. The versatile diesel dry prime pump also supplements lift station pumps should routine maintenance or emergency repairs be necessary. The product acts as a primary pumping system during routine maintenance and emergency repairs and is available in three to 18 inches, with flows to 11,000 gpm, heads to 430 feet, and solids handling to 4.25 inches.

It features automatic start/stop systems using floats or transducers, automatic monitoring and notification of backup pump, and is available with remote monitoring including SCADA system integration.
Company info
P.O. Box 291370
4620 City Center Drive
Port Orange, FL
US, 32129

Website:
thompsonpump.com
Phone number:
386-761-0362
Read more