Pump features onboard intelligence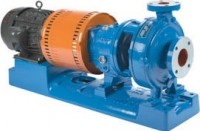 Marking an industry first, onboard pump intelligence is now a standard feature of the ANSI Model 3196 from ITT Goulds. The i-FRAME provides operations personnel, maintenance managers and reliability engineers – the people responsible for monitoring and repairing rotating equipment on a 24/7 basis – with early warning of trouble so that changes to the process or machine can be made before failure occurs.

The i-FRAME's stainless-steel condition monitor is nested securely atop the power end to measure critical vibration and temperature readings. Variations in temperature or vibration that exceed preset parameters will activate the early warning system by displaying flashing red lights, easily recognized during routine walk-arounds.