Wastewater transport pumps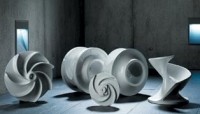 KSB's waste-water transport pumps – including the Amarex family of submersible pumps and Sewatec pumps for dry-well installations – can be ordered with special impellers that are optimized to meet the toughest water treatment challenges.

The KSB impeller family has five high-performance members: E and K-type impellers are shrouded, single or multi-vane designs that provide high pumping efficien-cies. These general-purpose impellers feature large free passages to cope successfully with solid objects in the waste stream. D-type impellers also offer good pumping efficiencies. These are open-vane impellers with special design features that make them highly resistant to clogging by fibrous materials in the wastewater. Where abrasive particles (such as sand) or gases are a problem, the F-type free-flow impellers are right for the job. And finally, for relatively small diameter pipes carrying household waste, the S-type impellers have built-in cutters to help reduce blockages due to fibres or solids.