Brahma Pumps designed for harsh solid handling applications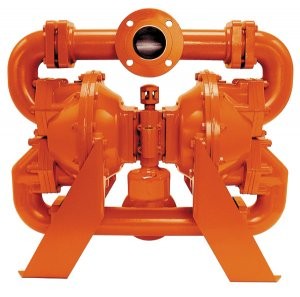 The Advanced Metal Series T1510 Air-Operated Double-Diaphragm Pumps, also known as the Brahma, are designed for harsh solid-handling applications.
The T1510 is a 76mm (3-inch) flap-valve pump that offers rugged design and durability. Its advanced bolted construction provides total product containment and is completely submersible. Clogging is eliminated through the pump's large internal clearances and top-suction/bottom-discharge operation. This allows for flow rates up to 977 lpm (258 gpm) and maximum pressures to 8.6 bar (125 psig) with a maximum dry-suction lift capability up to 7.4m (24.4 feet).
These pumps also benefit from Wilden's Turbo-Flo Air Distribution System (ADS) technology that operates on differential pressure only. The air-valve piston within the air-valve body routes the air supply to one of two air chambers. As the air chamber fills, the diaphragm is displaced, pulling the connecting shaft and opposite diaphragm toward the centre block.