Pedestrian trencher features easy to operate steering system
Vermeer RTX150 offers more power than competitive units in its class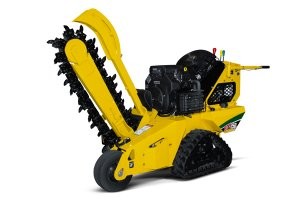 The RTX150 is the newest member in the Vermeer line of pedestrian trenchers designed specifically for rental outlets and utility contractors to assist in the installation of irrigation lines, drainage tiles, and gas and electric lines.

Powered by a 20 hp (14.9 kW) Kohler gas engine, the RTX150 offers 68 percent greater torque than lower horse-powered models for increased digging performance up to a maximum digging depth of 36 inches (91.4 cm).

Interchangeable tires or tracks allow you to adapt the RTX150 to the jobsite conditions. The tracks oscillate up to 20 degrees for increased traction on uneven ground and ease of loading and unloading.

The RTX150 features the exclusive and intuitive Vermeer VZ steering system that allows the operator to steer the machine by applying light pressure to the handlebars. This system eliminates the need for additional steering levers or wheels at the operator's station. Its zero-turning radius will even counter rotate from a stationary position.

"With the intuitive steering the RTX150 offers, renters become acclimated to operating the machine much quicker," says Jon Kuyers, utility segment manager for Vermeer. "There are fewer levers to grab making it easier to operate and reduces the learning curve in comparison to competitive units."

Hydraulic components, including pumps and motors, are designed and configured to maximize power to the digging chain and a heavy-duty hydraulic oil cooler and large reservoir help manage the hydraulic system temperature for enhanced performance and reliability.

The compact design allows the machine to navigate in and around tight areas providing greater mobility over competitive designs while offering increased horsepower to provide the power and productivity the renter should expect.

An electric start located at the operator's station is standard on the RTX150 and the narrow footprint allows the unit to fit into narrow spots and through backyard gates with a footprint that measure only 35 inches (88.9 cm) wide.