Turbine agitator line with advanced impeller designs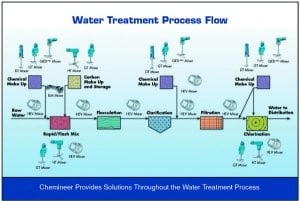 An extensive line of Chemineer turbine agitators with advanced impeller design options, and Kenics static mixers provide beneficial solutions for effective water treatment. Chemineer has over 50 years experience in the design and manufacture of fluid agitation equipment and is a recognized leader in advanced mixing solutions for the municipal and industrial water treatment industries.

Each product provides unique advantages and extends the range of effective mixing solutions available from Chemineer. Water treatment process applications include raw water and rapid/flash mixing to flocculation, clarification, filtration and finally chlorination preparing the water for distribution.

Proprietary mixer design technology and extensive field experience enables Chemineer to provide the most accurate water application evaluation possible to ensure effective process solutions. Chemineer also maintains a high-tech test lab that offers the most advanced testing techniques in the industry to optimize every aspect of water treatment applications.