New Ditch Witch RT115 Quad Designed For Extreme Conditions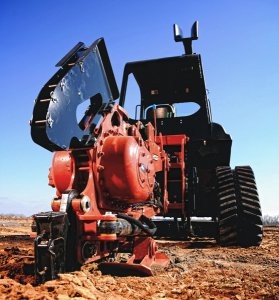 The Ditch Witch RT115 Quad is a heavy-duty, 115-hp (85 kW) machine designed for installing utilities in extreme jobsite conditions.

The RT115 Quad features a ground drive system with an exclusive chevron track pattern that helps provide outstanding traction on rugged terrain, in particular mud and other wet conditions. The chevron track pattern is designed to direct mud down and to the side of the tracks as they turn, improving traction for maximum pulling power. Additionally, the track frames oscillate, further enhancing maneuverability on uneven terrain.

The RT115 Quad's weight and low center of gravity increase traction and stability. The unit has one of the most heavy-duty steel undercarriages available—manufactured in-house and weighing 1500 lb (680 kg) each. Benefits of the weight and design of these heavy-duty components are increased drawbar and stability. Although the RT115 has a low center of gravity, it has higher ground clearance than any quad-track unit in its class—15.5 inches (394 mm).

The fully hydrostatic RT115 Quad offers a selection of hydraulically driven rear attachments plus a choice of front-mount utility backhoe, reel carrier, or standard nose weight. The vibratory plow attachment features heavy-duty lift arms designed specifically for the RT115 Quad's tremendous power and drawbar pull.

An operator needing ultimate traction for plowing can rely on the three-speed, shift-on-the-fly ground drive, which senses system load and automatically shifts to the best gear for optimal productivity. The transmission can also be manually shifted, giving operators a choice of different torque and speed combinations.

Another feature of the RT115 Quad is a standard tilt frame configuration, further enhancing stability on uneven terrain. Rear steering is also available, which allows for a tighter turn radius and better jobsite maneuverability.