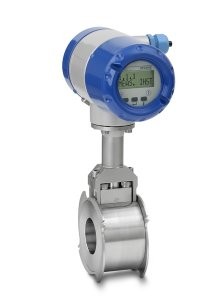 KROHNE, Inc., offers its new OPTISWIRL 4070 C flowmeter, a unique multivariable instrument that combines a vortex flow sensor with built-in temperature compensation and optionally available integrated pressure in a two-wire configuration.

The OPTISWIRL 4070 C is an all-in-one product that delivers accurate measurement of standard volumetric and mass flow of conductive and non-conductive liquids, gases and vapors, even in applications that are prone to pressure and temperature fluctuations.

OPTISWIRL 4070 C features a non-wearing, fully welded stainless steel structure that is highly resistant to corrosion, as well as high pressures and temperatures. The OPTISWIRL 4070 C is also designed with optimum reliability, featuring an Intelligent Signal Processing System (ISP) that allows for stable flow readings while eliminating noise and spurious frequencies in the process.

In addition to its sturdy and dependable vortex sensor structure, the OPTISWIRL 4070 C includes a built in temperature transducer and an optional pressure sensor with available isolation valve within its plug and play design, PACTWARE diagnostics and configuration software with DTM included at no extra cost.

This product is ideally suited for a variety of industries, including the chemical and the oil and gas industries. The OPTISWIRL 4070 C is designed for an assortment of applications in these environments, such as vapor and saturated steam measurement, steam boiler monitoring, compressor control or compressed air systems monitoring. The meter can also be used for measurement of industrial gases, burner consumption measurement, and SIP or CIP processes in the food, beverage and pharmaceutical industries.