Transfer pump for biofuels applications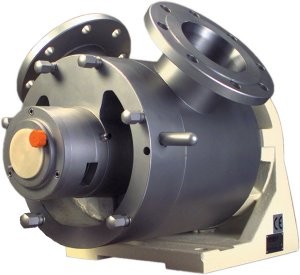 The MasoSine pump is designed to transfer material gently and economically making it the perfect solution for algae transfer. MasoSine pumps provide consistent flow rates for a better quality product and minimize damage with a non-contacting rotor liner. These highly economical pumps offer superior speed of transfer, powerful suction, quick unloading time and ease of maintenance. Product integrity is vital in biofuels applications and the MasoSine's consistent flow rates prevent damage to the live product and even allow them to multiply during transfer. Low shear and low pulsation make MasoSine the ideal pump for pumping algae and enzymes.

With a low horsepower requirement the MasoSine pumps generate at least a 20 percent energy savings over many other pump types. With only one shaft, one seal and one rotor, maintenance is minimal. The pulse-free flow characteristics benefit flow control and heat transfer as well as filtration and handles flows up to 440 gallons per minute. MasoSine offers pumping solutions for the biofuels market with many applications for the first and second generation biofuels.
Company info