Downspout removes zinc and other heavy metals from roof runoff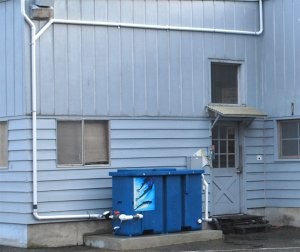 StormwateRx LLC, a provider of industrial stormwater treatment and filtration systems, announced the availability of Aquip Downspout, a new configuration of the Aquip stormwater filtration system specifically for attachment to roof downspouts. Aquip Downspout removes particulate and dissolved zinc and other heavy metals that are often present from facilities with zinc-coated or galvanized metal roofing or HVAC equipment. Stormwater running off of facilities with galvanized metals is a major cause of zinc pollution and aquatic toxicity in local waterways. Installing Aquip Downspout on a building with galvanized roofing can permanently reduce zinc concentrations by 98%, helping industrial facilities meet stormwater benchmarks for zinc and other metals.

Aquip Downspout easily and instantly attaches to downspouts of 2- to 6-inches in diameter. The system uses a layered, advanced media configuration developed by StormwateRx specifically for filtration of particulates and adsorption of dissolved metals from rooftops. The system uses the same patented, hydraulic flow control process that other Aquip enhanced filtration systems use.

Each Aquip Downspout treats up to 10,000 square feet of roof area. The system requires no power, uses no chemicals, has no moving parts and offers easy do-it-yourself installation. It includes both external and internal high flow bypasses. Conventional zinc-coated steel roofs releasing between 0.3 and 2.0 mg/L of zinc in stormwater runoff can be reduced to well below the EPA benchmark of 0.12 mg/L zinc using Aquip Downspout.

Aquip is accepted by the Washington Department of Ecology as a stormwater treatment Best Management Practice (BMP) for Level 3 Corrective Action and is an approved (CULD) treatment technology for new development and redevelopment projects under the rigorous TAPE certification process. The system is also accepted as a treatment BMP for Oregon Tier 2 Corrective Action. Washington and Oregon have some of the strictest stormwater regulations in the U.S.