Stormwater detention and retention chamber
stormwater collection, stormwater retention, stormwater detention, retention chamber, detention chamber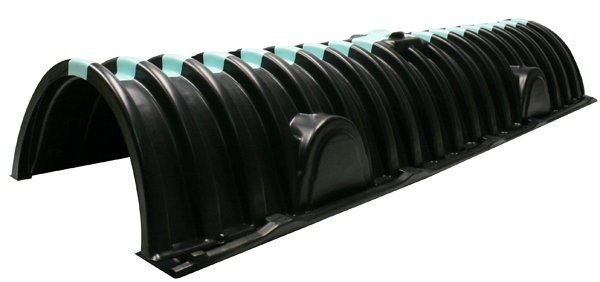 CULTEC, Inc. introduces a new Recharger 150XLHD stormwater detention/retention chamber, featuring a greater capacity than its Recharger 150HD and enhanced shipping capabilities.

The new model replaces the company's 150HD unit and features a bare chamber storage capacity of 27.16 ft3/unit and a minimum installed storage of 50.17 ft3/unit, an increase of more than 37% over the previous design. The added storage capacity is due to the increase in installed length by 2.75', which allows customers to use fewer units to reach the required storage volume, bringing down the system's costs. Additionally, the extended length offers the benefit of enhanced shipping economies, allowing CULTEC to transport a larger system per load, reducing freight costs.

The Recharger 150XLHD is 18.5" tall, 33" wide and 11' long and is ideal for installations with depth restrictions or when a larger infiltrative area is required. It has CULTEC's unique side portal internal manifold feature and works together with HVLV FC-24 Feed Connectors to allow manifolding to take place at any point within the system for maximum design flexibility. Each unit has the ability of accepting up to a 12" diameter pipe into its endwall to manage greater flow rates.