Leak detection program eliminates water main breaks and costly leaks
Fluid Conservation Systems saves Macon Water Authority over 12 million gallons of monthly water loss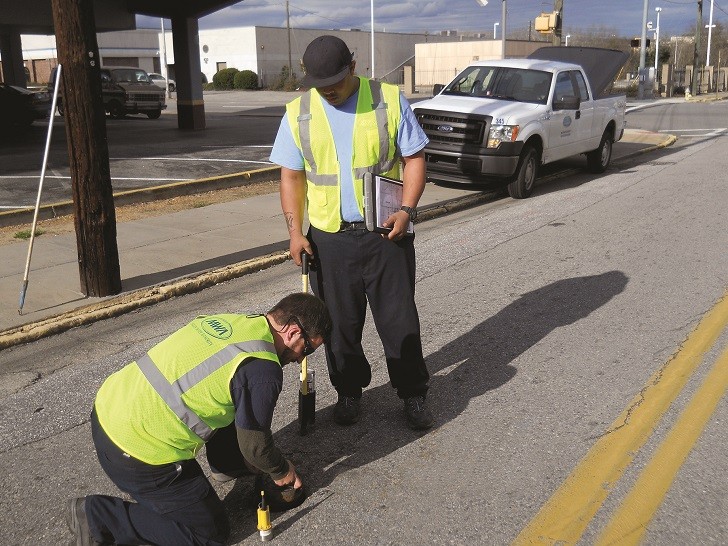 Using Fluid Conservation Systems leak detection equipment, the Macon Water Authority in Macon, Georgia, has taken a proactive approach to eliminating water main breaks and reducing costly leaks. Since beginning the leak detection program in September 2013, the Macon Water Authority has found and repaired more than 50 leaks, eliminating over 12 million gallons of lost water per month.
The Macon Water Authority is responsible for providing drinking water to the city's 55,000 metered connections, which serve its population of 120,000. With over 1,400 miles of mains, and some sections over 100 years old, the Macon Water Authority management team was interested in adding a leak detection element to its existing water loss control program. The team consulted with other utilities and vendors to research and compare leak detection programs and equipment. After careful consideration, the water authority contacted Simon Wick at Matchpoint Inc. about purchasing FCS leak detection equipment.
Macon Water Authority purchased 30 Permalog+ leak noise loggers, a Patroller II for mobile data collection, and an X-Mic ground microphone. After receiving product training from Matchpoint, water authority employees began to deploy the Permalog+ loggers throughout the city's water system. Using the "Lift and Shift" method, employees were able to use the 30 loggers to start their leakage program and the survey of their 1,400 miles of mains.
"We thought there would be more of a learning curve at first, but after our initial logger deployment we immediately began verifying leaks for repair," said Sewer Conveyance Water Distribution Manager Darryl Macy. "Now we can schedule road closures ahead of time to repair leaking pipes before they break and require emergency shutdowns."
Permalog+ loggers attach magnetically to pipes and valves. During the nighttime, when ambient noise is lowest, the loggers activate to "listen" for leak noise signatures within the pipeline. Employees then quickly collect the loggers' data for analysis on drive-by patrols using the Patroller II. Leaks are then pinpointed for repair using the X-Mic ground microphone.
"Before the leak detection program, we couldn't find and repair leaks until they surfaced," said Macy. "The FCS equipment found leaks in the older cast-iron sections that were leaking directly into the storm drains and would've never surfaced."
Since it began in September 2013, the Macon Water Authority has expanded its leak detection program. Today, an additional 200 Permalog+ stationary loggers are installed equally across four district metering areas that cover the oldest sections of Macon's water system. Employees patrol 100 loggers per week to quickly find and repair any leaks. Macon Water Authority also plans to hire two additional leak detection employees to help with its increased monitoring efforts.
Related Articles
As one of the latest models in the R2-Series excavator lineup, the Bobcat® E88 delivers durability, performance and quality for more productivity. Technically speaking, it's a compact machine, but it brings big performance with its redesigned engine and optimized lift performance, plus undercarriage and counterweight improvements. All these enhancements make this excavator one of the highest-performing models in its size class. With impressive over-the-side lift capacity, you can dig with greater confidence over the side of the machine. Put it to the test against similar models from other manufacturers. You'll see that the E88 can outwork the competition.