City of Campbell River selects DuroMaxx for sliplining project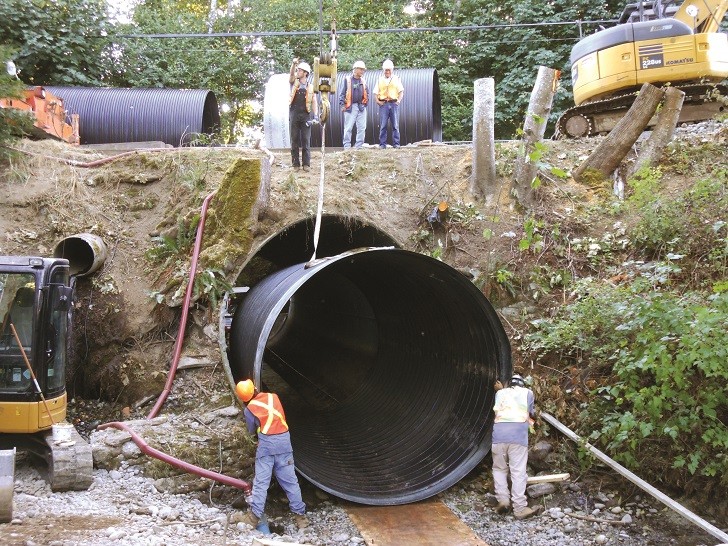 The City of Campbell River is located along the coast of B.C. and has often been referred to as the "Salmon Capital of the World." While doing some repair work along Galerno Road, just outside of a nearby subdivision, the City noticed an existing culvert had exceeded its 60+ year service life and was in need of rehabilitation or replacement. Due to the close proximity of the subdivision, extended road closure to excavate and replace was not a viable solution. The next best option was to slipline the existing structure with a 120-inch diameter pipe that would provide a 75+ year service life.
After researching several options, the City of Campbell River selected DuroMaxx steel reinforced polyethylene pipe manufactured by Contech Engineered Solutions and supplied by Armtec Infrastructure, Inc. with which to slipline the existing culvert. The DuroMaxx pipe provided a lightweight, economical pipe choice that fit easily inside the existing structure, while the smooth interior wall allowed for an enhanced hydraulic performance.
The project had a limited access right of way and a tight window of construction time in order to comply with habitat protection regulation. In order to maintain this compliance, the contractor, Upland Excavating Ltd., was able to install the pipe within less than six hours inside the host pipe and weld the joints in the same day. The pipe was successfully encased in grout utilizing the grout ports provided. Both the City and the contractor were very pleased with the results.
Lorne Mielty, Technical Sales, Armtec Infrastructure, stated, "It was a pleasure dealing with Contech Engineered Solutions on this large diameter reline project — through the entire process from design, delivery, installation and final approvals to meet all the criteria governing salmon habitat. All Contech staff were extremely professional and always willing to assist. The end results for Armtec's customer was a cost-effective solution that respected the key environmental sensitivities of Simms Creek. Many thanks to the Contech team!"
Company info
9025 Centre Pointe Drive
West Chester, OH
US, 45069

Website:
conteches.com
Phone number:
800-338-1122
Read more