IPF-Plasson supplies HDPE Spirolite pipe and manholes for sewer project in Mexico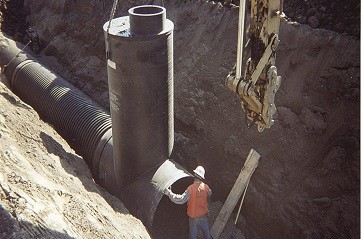 Industrial Pipe Fittings (IPF-Plasson), based out of Houston, Texas recently secured a $1.7 million deal to supply a national sewer project in Matamoros, Mexico with their own proprietary Spirolite pipe and manholes.
"The reason the client went with Spirolite versus concrete is flexibility and ease of installation," said Enrique Saavedra, Vice President of Sales at IPF-Plasson. He further explained that, "Concrete takes over 50 percent more time to install and is prone to breaking in areas where the soil expands or shifts due to the groundwater line."
The line depth change for this particular project went from 6.5 metres down to 8.3 metres. The engineers at IPF-Plasson knew that this depth change would pose a challenge, so to combat the pressure, they recommended
Spirolite instead of concrete, PVC, steel and other hybrid materials because Spirolite is more flexible, fast and easy to install. Spirolite HDPE, a high-density polyethylene, was the only product that could successfully withstand the depth and wet conditions of the sewer system placement. Spirolite pipe is offered in segments up to 50-feet with bell and spigot jointing for easy installation. Custom pieces such as reducers, manholes, pump stations and manifolds are also available to meet specific application requirements.
Once completed, the sewer system will provide water supply for the second wastewater treatment plant in Matamoras, Mexico.