The compact excavator of the future
Tablet shows exact location of water pipes and electrical cables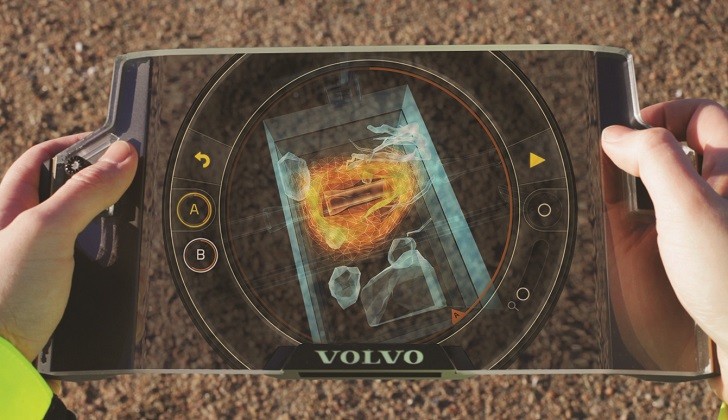 Volvo Construction Equipment has unveiled its latest concept design machine — the GaiaX — this time imagining the compact excavator of the future.
The traditional cab is replaced by a lightweight steel guard rail, while the battery alone acts as counterweight to the arm and boom. Volvo CE turns the usual disadvantage of a heavy battery into an advantage. Four electrically powered tracks provide good ground surface contact and ensure stability and maneuverability, even on steep inclines.
The augmented reality tablet will be mapped with the city's utility systems, showing the exact location of water pipes and electrical cables on screen and allowing the operator to visualize the work before it is carried out using segmented reality. A ground scanner provides precise information on obstacles to guarantee the effectiveness of auto-dig modes and projects images onto the ground to show the worksite and mark safe zones for the operator and passersby. The tablet will also connect to other machines in the fleet to provide a more effective way of working. The rechargeable batteries are designed to see the operator through a whole working day — but the GaiaX can also be used while plugged into an external electrical power source.