A new water supply tunnel being built deep below Fraser River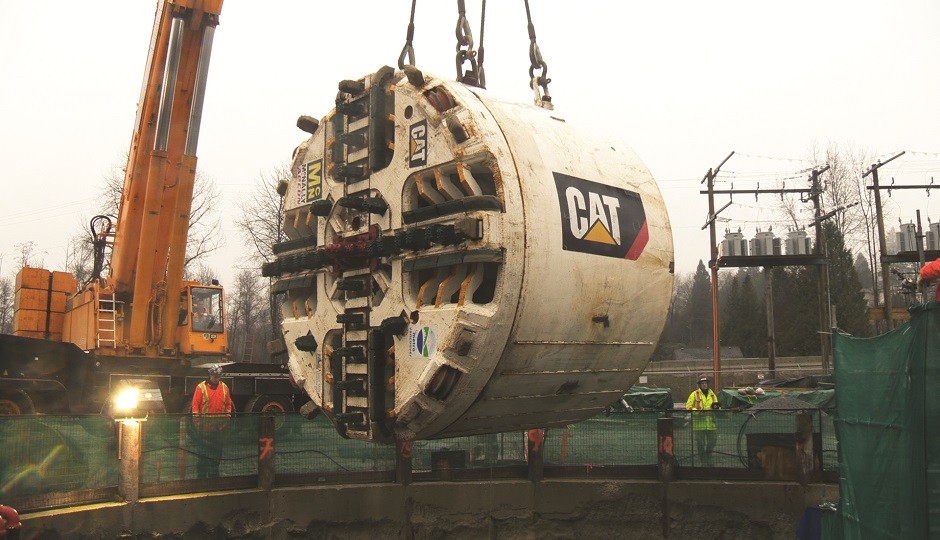 A mechanical mole has started boring a tunnel under the Fraser River, B.C. for a new regional water main for communities south of the Fraser.
Metro Vancouver's $240 million Port Mann Water Supply Tunnel will replace a smaller water main under the riverbed, just downstream of Port Mann Bridge.
"Few people will see this massive construction project first hand, but hundreds of thousands of residents will benefit," said Metro Vancouver Board Chair Greg Moore.
"This investment will ensure the continued and reliable delivery of high-quality drinking water to communities like Surrey, Langley and Delta. The water supply tunnel is just one of Metro Vancouver's many unseen and unheralded construction projects. Infrastructure projects like these not only improve the regional services that all communities need, but also create jobs and new business opportunities."
As well as more than doubling the water-carrying capacity of the existing water main, the new main is designed to withstand a major earthquake. A bored tunnel under the riverbed will also help protect this essential service from the Fraser River, which damaged the existing water main in 1997. In 2006, the Metro Vancouver Board approved funding for the project. In 2011, the regional district's contractor started to construct a 60-metre deep vertical shaft on the Surrey side of the river and followed in 2012 with a 60-metre-deep vertical shaft on the Coquitlam side of the river.
In mid-December 2013, with work on the south shaft complete, a large crane slowly lowered a Tunnel Boring Machine or TBM into the south shaft in Surrey. At the base of that vertical shaft, tunnel workers assembled the TBM and the start of a temporary narrow-gauge railway. The tracks will get longer as the TBM bores the tunnel under the Fraser. The completed tunnel will be approximately one kilometre long.
On Feb. 14, 2014, the machine began boring a hole 3.5 metres in diameter. Hardened steel cutting tools at the front end slowly rotate and slice through the sediments and rocks, breaking them into smaller pieces. Conveyer belts carry these materials, called "muck," to the back end of the machine. Cars on the train will transport the muck back to the south shaft in Surrey, where it will be hoisted up with a crane then trucked away to an approved disposal site.
Following tunnel construction, a welded steel water pipe will be installed inside the tunnel and shafts, to ensure that a vital lifeline remains intact and is robust enough to resist river scour and a major earthquake.
The projected completion date for the tunnelling portion of Metro Vancouver's Port Mann Water Supply Tunnel is summer 2014. The total project, including water main installation, is schedulled to be completed by mid-2015.