Stitch boring with piercing tools keeps customers connected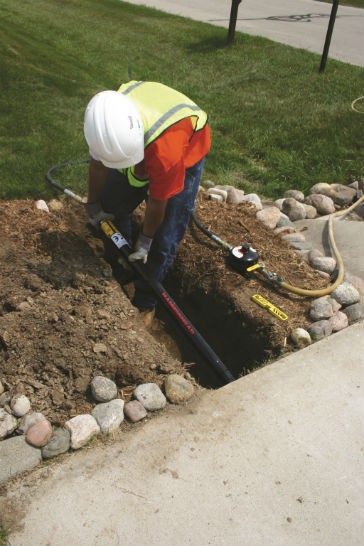 Grayco Communications understands the importance of taking care of their customers. Butch Grambow, VP of Operations, said, "Catered customer care is not just our slogan but our number one goal." Grayco provides a full range of services including residential and commercial installation, audits/sales, collections, multi-dwelling unit service plans, equipment recovery, and underground construction.
Stitch boring process
Minimizing social impact and providing fast, clean and cost-effective installation of underground utilities and services utilizing trenchless technologies are their top goals. Therefore, Grayco's method of choice is "stitch boring." In stitch boring method, pneumatic piercing tools bore from one small pit to the next. Most often the new product follows right behind the piercing tool for simultaneous installation. It is the preferred method of many contractors because of its low operating cost per foot, reasonable equipment investment and minimal training requirements to operate equipment expertly. In addition, cleanup and restoration costs are minimized since the technique disrupts so little of the surface.
Armed with shovels, air compressors and two piercing tools per three-man crew, Grayco crews use the stitch boring method to average about 400 feet per day for up to 2,000 feet per week of new installation. Grayco's 10 underground crews and subcontractors install more than 20,000 feet of underground fibre, coax, electrical and communications lines each week in residential and commercial areas throughout Houston, Texas, where Grayco is located.
Typical installations
At the jobsite each three-man crew carefully chooses pit locations to minimize impact and maximize job production. Most bores range from 25 to 50 feet with individual projects ranging from 100 to 2,700 feet long. Each pit is approximately 24 inches deep. Once pit location is determined, the pits are hand dug, and the crew strings air hoses from the compressor to the easements to power the piercing tools. Once connected to the airsupply, the tool is shot from one pit to the next, each pit serving as both an exit pit and entry pit for the next bore. Grayco has found piercing tools to be a reliable method of installing conduits under trees,gardens, out buildings and other permanent fixtures. In addition, there is less restoration involved versus plowing or using a trencher.
Because easements in the Houston area are usually located in the backyards of homes, underground utility installation often becomes challenging for larger equipment. Leaving these landscaped areas the same way they were found is a must for the customers and is a big reason underground utility contractors like Grayco choose the stitch bore method.Although Grayco works in front easements,normally the work takes place in the back yard and landscaped areas with many other underground utilities within the right of way.
Preventing damage to existing utilities is another great reason for contractors to use the stitch bore method. It forces crews to dig up and expose the other utilities that they may be crossing. By physically identifying the location of the existing utilities, Grayco crews take a proactive role in damage prevention.
Grayco has learned through their experience to have different tools for the varying soil and ground conditions they work in. The ground conditions in the Houston area vary greatly from gumbo, sandy loam, and sugar sand. Grayco chooses piercing tools from HammerHead Trenchless Equipment because Hammerhead has a wide range of tools designed to keep them productive while minimizing their maintenance costs in different soil conditions.
The right tools for the job
Grayco uses 2.5-inch and 3.0-inch HammerHead Replaceable Head piercing tools when in soft or sandy ground partially because they have fewer moving parts and lower maintenance costs. Will LeBlanc, National Sales Manager for HammerHead, said they also maintain traction much better in softer ground, making them much more productive than reciprocating head tools.
When ground conditions get harder and production from the Replaceable Head tools begins to slow, Grayco runs the 2.5-inch and 3.0-inch Catamount piercing tools. The Catamount piercing tool features a reciprocating head that is designed to bore through harder ground conditions.
LeBlanc said, "The Catamount's tool design provides a reciprocating head that is easy to start, regardless of air pressure level, and eliminates the need for a mechanical spring, which is prone to fail over time. It's completely different from any other tool design in the market, as we've taken technology from down-hole hammers and incorporated them into this tool."
Grayco's construction manager said, "We started working with the Catamount when it first hit the market. Hammer- Head took care of the initial issues common with a new product release. They even sent Will LeBlanc, their national sales manager, to help train us in the repair and maintenance of our piercing tools. We learned that the Catamount is by far the quickest and easiest tool of its kind to repair. That's important, as it's not a matter of when a tool will need repairs – because they all will. It's a matter of how fast can we can get the tool back in the field working and making the company money."