CUC crews endure extreme conditions to complete Air Liquide project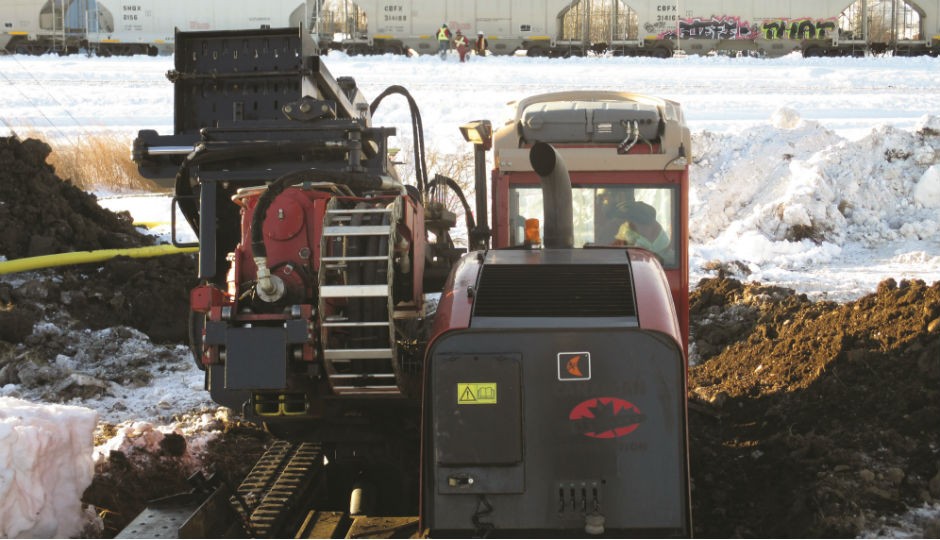 Working in underground construction, it's common for utility contractors to encounter unexpected challenges. In fact, it's those challenges that often test a company's mettle, its expertise and its people. A successful outcome not only brings a sense of pride to those who were involved in the project, but can often cement a relationship with a customer that is both long-lasting and fruitful.
In the fall of 2013, Canadian Utility Construction (CUC) had the chance to prove itself through a difficult job in Dawson Creek, British Columbia. The Western Canadian underground construction firm was contracted to install a dedicated mainline to a new plant being built by French multinational Air Liquide. The mission for CUC: Tap into a highpressure mainline northeast of town, and run 4,800 metres of 3-inch, high-pressure flex pipe to supply the plant with natural gas, allowing Air Liquide to run its own three-phase power.
CUC has grown from a small B.C. company with a handful of employees, to a going concern with a payroll of over 400 and a large fleet of equipment, including excavators, backhoes, trenchers, dump trucks, paving equipment, hydrovacs, plows, and a number of directional drills. The company's roots go back to 1967 when Noel T. Coon established Northern Gas Line Constructors in Minnesota. A joint venture with a First Nations band on Vancouver Island led to the creation of Canadian Utility Construction in 1991. CUC's first job was installing the inland portion of gas distribution mains and service lines on Vancouver Island after the completion of a natural gas pipeline running from the B.C. mainland to Vancouver Island for Centra Gas, which evolved into BC Gas, Terasen, and now Fortis BC. Canadian Utility Construction specializes in construction and maintenance services for utility companies throughout Western Canada, including natural gas, electricity and communications.
Crews face logistical challenges and gruelling winter conditions
The Air Liquide job presented two interesting challenges for CUC, one logistical, and the other weather-related, according to Regan Pinette, CUC's Area Manager for Northern B.C. Logistically, the job involved running pipe underneath a busy highway and a set of CN railway tracks. And when it came to the weather, Mother Nature wasn't in a nurturing mood. A couple of land and regulatory issues – typical in a project of this nature – pushed the project start from the spring/summer to the fall, which meant that for CUC, the work would be taking place in frozen ground in the middle of winter, where temperatures can drop to the minus-30s and the snow can accumulate up to several feet.
Indeed, Pinette said the inhospitable winter conditions, including at one point four feet of snow, meant crews had to take extra care with the equipment, like using Espar heaters at night so that the excavators, trucks, directional drills and other pipeline excavation equipment – primarily by John Deere and Ditch Witch – started in the morning, and to prevent Horizontal Directional Drilling (HDD) fluid from freezing.
"A lot of it is hydraulics, the cold weather really affects hydraulics and you have to ensure you warm them properly," said Pinette, based in Fort St. John. "If you don't do things in the right way, you have more down time. If you have more down time, the customer's not happy, you don't get the job done on time and your profitability also suffers."
The cold results in increased idling, therefore, higher fuel costs. Frost cover is also harder on the equipment, and slows down excavation. In winter, hand excavation is typically replaced by hydrovacs, and water needs to be heated so that it doesn't freeze while doing horizontal directional drilling. In addition, manpower can't work as quickly when the mercury plunges, nor as long as in mild weather. In the north, daylight doesn't illuminate the jobsite until 9 or 10'o'clock am, and by 3 or 3:30, it's beginning to get dark. That requires more tower lighting, which again, adds to project expenditures.
Even without the weather though, the Air Liquide job was tough from a logistical point of view. Crews had to tunnel beneath the Alaska Highway – a four-lane thoroughfare – and a set of railway tracks. And while there are procedures in place for running trenchless under highways, there was no playbook on how to perform directional drilling, in concert with other heavy equipment, on the Dawson Creek Golf Course, without chewing up greens and tee boxes.
"We constructed the same way as we crossed the highway. We directional drilled the entire length and we'd come out in a treed section. We'd strategically pick our tie-in locations where we'd come out, hook onto our pipe, pull back and join," Pinette related.
"I was concerned about damaging the greens, you're running 200 Series excavators and heavy equipment, dump trucks and tractors, you're under snow, you have to plow your running line and do your welding and set valves and risers. You're concerned about what it's going to look like, but there's no damage to the golf course at all."
Project successfully completed ahead of schedule
That, and completing the gas line installation two days ahead of schedule, made for a happy customer, as well as putting a smile on the face of Mike Kemper, CUC's President and CEO, who rates customer satisfaction among the company's highest priorities.
"We specialize in doing complicated projects, whether in urban or sensitive areas. We like to do the kind of work that takes a little more customer care and skill than running a gas line through a cornfield," Kemper said, adding: "This was right in our wheelhouse."
Related Articles
As one of the latest models in the R2-Series excavator lineup, the Bobcat® E88 delivers durability, performance and quality for more productivity. Technically speaking, it's a compact machine, but it brings big performance with its redesigned engine and optimized lift performance, plus undercarriage and counterweight improvements. All these enhancements make this excavator one of the highest-performing models in its size class. With impressive over-the-side lift capacity, you can dig with greater confidence over the side of the machine. Put it to the test against similar models from other manufacturers. You'll see that the E88 can outwork the competition.