Doosan Portable Power Introduces Natural Gas Generators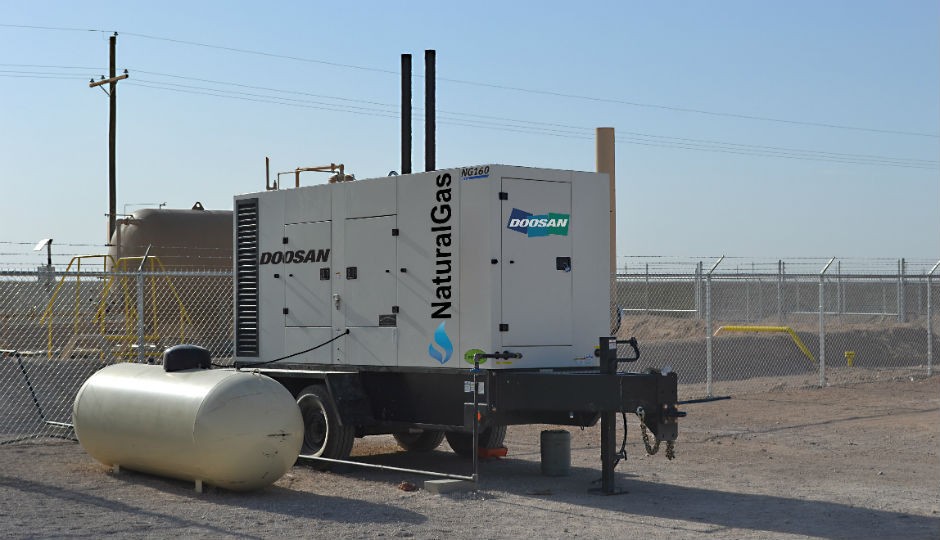 Doosan Portable Power is introducing the company's first natural gas generators. The new NG160, NG225 and NG295 natural gas-powered generators are designed specifically for the oil and gas market, combining the ability to operate on wellhead natural gas with rugged, reliable features that ensure performance in remote locations and harsh environments.
Doosan natural gas generators are equipped with an automatic dual-fuel switch, allowing the generator to operate on propane, as well as natural gas. This ensures continuous generator operation in the event that wellhead gas flow is interrupted or unavailable.
A patent-pending Onboard Scrubber System improves machine performance by removing excess dirt and water from wellhead gas, while an oil level maintainer allows for extended run time. Generator diagnostics and uptime are also supported by a telematics system that allows fleet and service managers to remotely observe machine use and performance in secluded or difficult-to-monitor locations. Telematics come standard on Doosan natural gas generators; advanced satellite options are available for machines in isolated locations.
Dual frequency and optional voltage make Doosan natural gas generators the most versatile in the market. Operators can select 50 Hz or 60 Hz, with the simple flip of a switch and choose between 480V or 600V alternator output.
Additional Doosan benefits include rugged running gear, galvannealed enclosure, and at-a-glance control panel monitoring that indicates whether the generator is operating on natural gas or propane.
Whether a job calls for exploration, site preparation or production, Doosan natural gas-powered generators deliver reliable power and optimal performance.
Doosan NG160, NG225 and NG295 natural gas-powered generators will be available for the North America market in late fall 2014.
Company info
Related products