The New Husqvarna K 970 – Power Cutter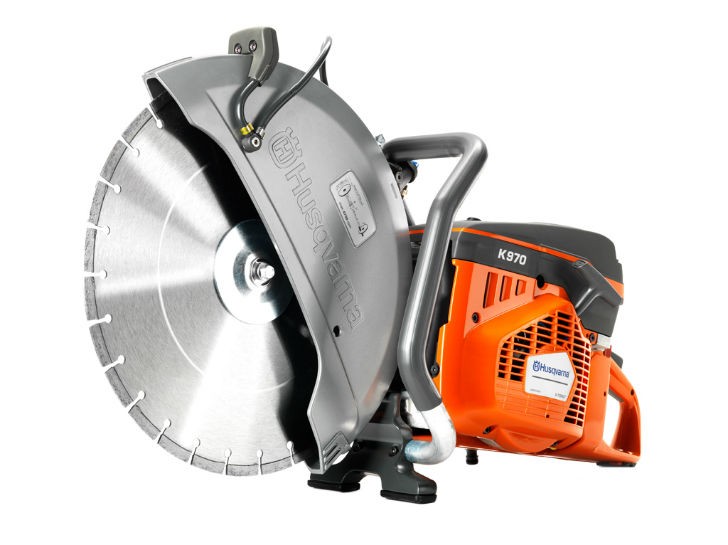 Husqvarna continues its long tradition of providing users with powerful and reliable power cutters with the improved K 970. The machine has a further enhanced power-to-weight ratio and offers optimized performance combined with a low weight and superior ergonomics. "The K 970 is already an appreciated product, and the new K 970 is improved in a number of details in order to meet our customers' high demands," says Johan Simonsson, Global Product Manager - Power Cutters.
One of the many improvements is the new cylinder design and carburetor, which increase the power cutter's capacity and optimize performance. At the same time, the new cylinder and new muffler, with integrated heat deflector, ensure optimal operating temperatures and make the machine less sensitive to variations in climate and fuel.
Ergonomics have also been improved. The new, lighter blade guard made of magnesium (only available on the 14" model; the 16" model has a steel guard) gives the power cutter better balance and provides stepless guard adjustment. This makes operation and altering cutting positions easier.
The new blade guard includes a reversible blade bushing, which allows operators to easily switch between blades with different center holes. A progressive water valve allows exact adjustment of the water volume, greatly reducing water consumption and slurry.
The low weight, together with optimized performance, enhances the machine's power-to-weight ratio. "To sum up, all the new improvements contribute in making the new K 970 a powerful, efficient and reliable machine for professional users," says Simonsson.
Additional benefits
K 970 is equipped with an X-Torq engine, which lowers both emissions and fuel consumption when compared to conventional 2-stroke engines. It also has great startability with air purge and a decompression valve.
The new K 970 is ideal for heavier cutting of concrete and stone in alterations, renovations and new construction work. It is perfect for cutting smaller holes and adjusting window and door openings, as well as for pipe, asphalt and metal cutting. It is also the machine of choice for cutting curbstones and pavers in landscaping.
Company info
Related products