AQUA CUTTER 410
World's Smallest Hydrodemolition robot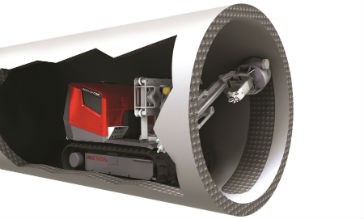 The AQUA CUTTER 410 has been designed for hydrodemolition applications in confined areas such as concrete sewer pipes in urban locations and small tunnels.
With dimensions of just 2.0 x 0.78 x 0.99 metres, the new robot can go through any ordinary door opening and operate inside a concrete pipe, on vertical, horizontal or overhead surfaces.
The 410 robot features a number of 'tools' including a rotor for surface preparation and work inside pipes and tunnels, a single lance with a 1.5 metre front shroud for surface removal and an hydraulically operated articulated arm with a reach up to 3 metres. The tunnel kit also features automatic detection of the distance to the tunnel surface making it easy to operate in uneven tunnel shapes or oval tunnels.
The Power Control Module (PCM) can be disconnected from the tracked crawler. This allows the crawler to be driven into unfriendly environments, for example small tunnels suddenly flooded by, heavy rains.
In this mode, the PCM is connected to the track crawler by a cord and the removal process controlled remotely. This is ideal when, for example, sewer pipes can be suddenly flooded. The work can continue and not be disrupted by the water.
The operator controls and monitors the operation by a remote radio controller so that the machine can be run from a safe distance; ensuring complete control over the robot.
Company info
Related products