PDM-300
Mobile Waste Drill Mud Treatment System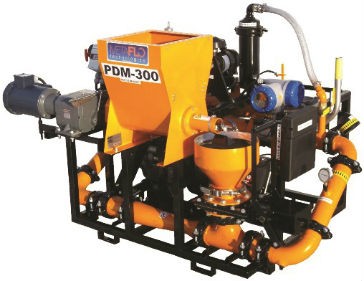 MetaFLO Technologies of Toronto, Ontario has developed the PDM-300 for the on-site treatment of water-based liquid drilling waste. Licensees of this technology are available to work as a subcontractor or if you prefer, the equipment is available for purchase and internal use.
Conventional liquid waste disposal techniques add bulking agents to meet solids criteria for transportation to landfill, increasing volume by 200 percent or more. The PDM-300 turns liquid waste to a solid in real time, reducing cost, improving safety, and significantly reducing environmental impact. MetaFLO's proprietary, engineered reagent formulation, combined with our high shear mixing technology adds only 1-3 percent dosage, saving you time and money through reduced transportation and disposal cost.
Once on site, the user has eliminated the need for costly transportation to and from transfer stations. MetaFLO's R-T-S reagents are applied through the PDM's patented high shear mixing process, solidifying liquid waste. Additionally R-T-S environmentally- friendly reagents tie up water, which given drying time can evaporate away from the resulting matrix (providing up to 50 percent volume reduction).
Company info
Related products