Utility trenching to tackle rock formations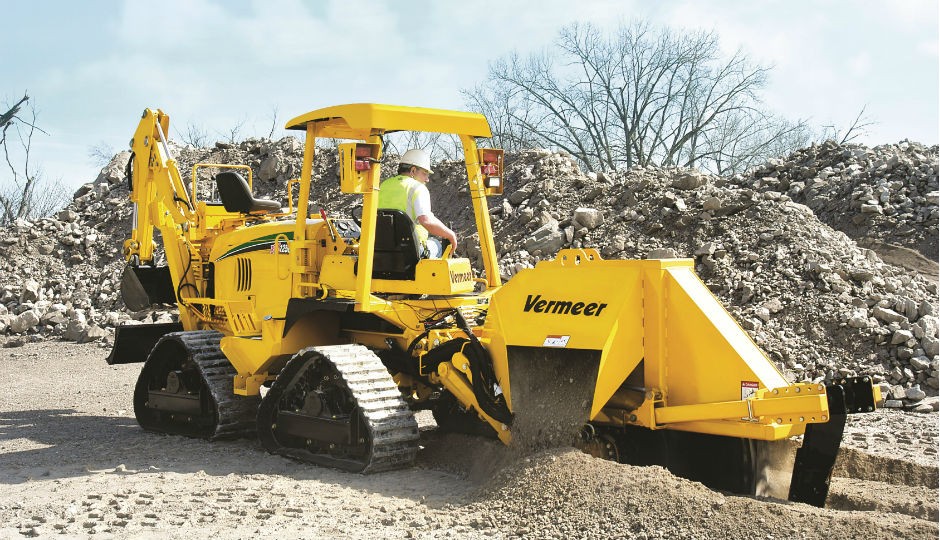 It's the toughest job out there for a trencher – trenching in rock. Depending on the type of rock, it's difficult to estimate productivity. From hard, thick marble to solid, abrasive limestone, challenging rock formations in the path of a utility line require up-front planning, and choosing the right trencher and tools to help ensure that your project will be successful.
Uncovering the unseen
Understanding what lies beneath the surface is imperative when determining the right trenching tool for the job. Rock sampling is the easiest test a contractor can perform that will provide extensive information on the ground conditions. A core sample from the jobsite will help identify what type of rock is in the trench path, as well as its psi, hardness and abrasiveness.
"The most important characteristic to know is what kind of rock the contractor can expect to cut through, followed by the hardness. The hardness will help determine weight and power, because a harder rock typically means heavier trenchers with more horsepower," says John Kuyers, global product manager for underground at Vermeer.
The selection: rock trencher or rockwheel
The specifications of a project are also determining factors when choosing a method that is most suitable. The type and size of pipe being placed in the ground will influence whether the contractor chooses between a rockwheel or a standard chain trencher outfitted with teeth specifically for cutting rock.
For any utility line, either pipe or cable that is less than 6 inches (15.2 cm) in diameter and less than 4 feet (1.2 m) deep, trenching could be done with a rockwheel. If the project calls for a wider line or deeper trench, then using a chain trencher is recommended, as the larger machines are better designed to provide the power needed to cut the material. "The first thing to understand is exactly what kind and what size of pipe is being placed in the ground. For example, if the job is to install a 12-inch (30.4 cm) ductile iron pipe that has a bell of 2 inches (5.1 cm) greater, then the trencher should be capable of an 18-inch (45.7 cm) cut," Kuyers says.
Rock tooth 'hygiene'
The ground conditions can go a long way toward influencing tooth selection. Carbide tip selection is largely dependent on the soil type an operator is likely to encounter. A larger carbide tip is the ideal choice for minimizing wear, but a tip with less carbide and a sharper point is the smarter choice for greater penetration into a rock.
The tooth patterns need to be aligned properly to allow for maximum productivity and efficiency. Cost versus performance needs to be balanced when determining the best answer for a trenching project. "Different types of teeth and carbide tips have varying costs. You will need to determine the desired rate of production, how much your consumables (teeth) will cost, and how much time and how often you need to change the teeth to determine the best solution," Kuyers says.
This is where a relationship with a local equipment dealership can be beneficial. With their industry expertise and understanding of local ground conditions, an experienced dealer can recommend best practices for optimum chain configuration in each different material type.
Trained in trenching
Rocky Hill has been able to operate his own trenching and construction company for 30 years, thanks largely to his dedication to service and expertise in rock trenching. Hill operates both Rocky Hill Equipment Rental and JCH Construction in San Antonio, TX and has steadily grown his trenching fleet over the past few decades. In order to support this success, Hill has rigorously pushed the value of maintenance.
In his utility trencher fleet, Hill has a Vermeer RTX1250, an RTX750 and one RTX550; the company also features larger track trenchers, including a Vermeer T655III and a T755III. E ach of these is rented out to customers, and it is the obligation to these customers that motivates Hill to continually examine the teeth, the chain and all mechanical components of the trencher.
"We monitor every part of our trenching machines, both track trenchers and smaller utility trenchers. Every machine that comes in from the field is inspected and washed. We check all filters, service points and grease points," Hill says. "We monitor the rock bits and dirt teeth. The teeth need to be at least 70 percent of original sharpness, or the productivity is much less and you will cause excessive wear on other components."
Keeping a rock trencher running
If a machine has been used for a number of jobs, the boom needs to be inspected to ensure that the teeth are wearing equally all the way around. Rotating the teeth along the chain is an effective way to enhance the longevity chain. If the teeth are not rotating in the pockets, the teeth will rapidly lose their points or become flat on one side; not only does this minimize productivity, but it can also lead to pocket deterioration. Pocket repairs are an easily avoidable expense if preliminary inspection steps are taken.
No matter what the conditions are, trencher maintenance cannot fall by the wayside, and operators need to regularly examine all wear parts and components of the machine. Visual inspections begin with the boom, specifically the chain. The chain should follow the contour of the curved boom and not become overly tight or too loose. If the chain achieves either of these extremes, it can adversely affect trencher performance or require more horsepower than necessary when digging.
On the tractor, there are several basic mechanical checklist items that, despite their simplicity, can be as important to the success of a project and longevity of a trencher. These checkpoints include all applicable grease points, engine fluid levels, and especially air filtration filters and systems due to the dust particles that are created via trenching. Trencher teeth should also be routinely inspected; however, there are visual indicators of tooth health during the trenching operation.
"When a trencher is working, watch the material it is producing. If there is fine, powdery dust emanating from that path, then it is likely that trencher or rockwheel tooth is not penetrating enough. A strong, sharp tooth with the machine operating within the optimum working range should create smaller chips, not just powder or dust," Kuyers says.
Pushing a trenching unit too hard or too fast is another surefire way to cause excessive, unnecessary wear.
"Operators can sometimes force a machine in an effort to cut as quickly as possible. The rockwheel or boom will start bouncing off the ground and that leads to a lot of stress on the teeth. The impact load should be consistent on the face of the trench wall at all times. It should not bounce against that because the teeth may break off quickly," Kuyers says.
To avert this problem, start by turning down the ground drive and perform smooth plunge cuts; the speed of the chain and wheel will be optimized to the ground drive speed.
Conclusion
Utility trenchers are designed to endure some of the most difficult and varied ground conditions. While they are capable of handling an array of dirt and rock formations, operators still need to rely on geological background and equipment upkeep to capitalize on the capability of such diverse machines.
"We can never emphasize too much that contractors and operators talk to their dealers in the region in which they are trenching; ground conditions can vary a few miles or even a few feet apart, and relying on the knowledge of the local experts is integral to the success of any trenching project," Kuyers says.