Vacuum trucks play critical role in trench rescues
Toronto Fire Services takes advantage of Badger vacuum trucks for faster and safer trench rescue operations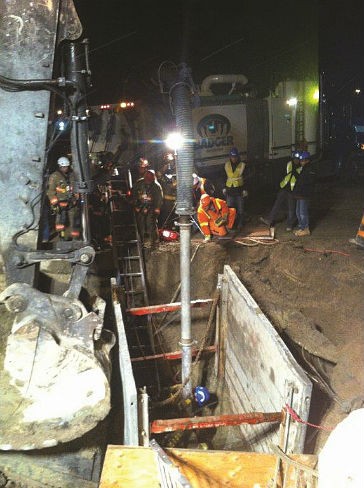 Vacuum trucks are useful in excavating underground utilities, but they can also be pressed into service for an even more important function: saving lives.
The year was 2011, and it was just another day in the field for a pair of construction workers installing a sewer in the York Mills district of Toronto, when disaster struck. The trench the men were working in suddenly collapsed, burying one of them over his head and the other up to his neck.
Luckily, fire rescue crews were on scene within minutes to remove enough soil to administer oxygen to the injured workers, before they shored the trench and set about digging the pair out. Thankfully, in this case, the outcome was positive, with both escaping with their lives and no major injuries.
Utilizing vacuum truck technology
As most industry insiders will tell you, trench collapses are nothing new, but what has changed is the technology in dealing with them. Here, vacuum trucks are playing a critical role. Traditional methods of uncovering an inundated trench involve the use of shovels and a bucket brigade, which in the event of a buried or partially-buried worker, can eat up precious time. The use of heavy equipment in trench rescues is, for obvious reasons, to be avoided.
In the York Mills incident, a Badger vacuum truck was brought in to quickly remove soil from the trench as firefighters worked to extricate the trapped workers. While a hydrovac normally employs water to break up the soil and locate underground utilities, in a rescue operation the hydrovac runs without water to vacuum out the soil surrounding the victim.
Bryan Jones of Badger Daylighting says the company has been working with fire departments, mostly in the Toronto area, on trench rescues for about eight years now. Last year Badger participated in five rescues and one "recovery", as fire departments refer to a fatality. The company also gives demonstrations at trench rescue training sessions held by the various fire departments around Toronto. According to Jones, "It makes us feel really good about what we do."
Chuck Guy, a captain with Toronto Fire Services, said most major injuries in a trench collapse result from being crushed, not, as is commonly assumed, from suffocation:
"A cubic yard of soil can weigh up to 2,000 pounds so that's like having a Volkswagen land on your chest," said Guy, who also instructs Toronto's five heavy rescue squads in how to carry out proper trench rescues. He added: "Usually when it collapses it is sudden and quick, in a tenth of a second. Most guys have time to turn but not get out of the way. Occasionally you'll have a partial collapse where a guy gets buried up to his knees, but it's still going to take some time to get that material removed from around him."
The veteran firefighter said for that reason, he likes to have a hydrovac truck on scene, even as a precaution when they get the emergency call.
"Vacuum trucks are a definite asset to have. They're a tool in your toolbox so to speak," he told CUI. "We like calling them prior to needing them because by the time you do need them, you gotta have them there. You can't wait."
Guy said Toronto Fire Services have a strict protocol in place when they arrive on the scene of a trench collapse. The first priority, after shutting off any machinery whose vibrations could cause more earth to collapse, is to shore the trench. "We don't put a firefighter in a hole until we put a shore system in," says Guy, adding "We're not doing the victim any good by rushing into an unprotected trench."
When a decision is made to call a hydrovac, rescue crews need to quickly determine how much material needs to be removed, since one truck may sometimes not be enough. Guy said a hydrovac can also be used in a flooding situation, recalling one incident where a water main wouldn't shut off and a trapped worker was at risk of drowning. They can also be used in conjunction with portable pumps.
Jones said Badger is always on the lookout for fire departments looking to take advantage of hydrovacs in trench rescues, but admitted he's a little surprised by the complacent reaction he sometimes gets.
"We have all these things around us whether it's hydrovacs or something else, but we get the blinders on. There's a certain way of doing something, and we're not compelled to look for alternatives," he said. "Fortunately in the Toronto area, they realize they do have options and they're taking advantage of it and it's resulting in lives saved."