Multi Directional Keyhole Coring Unit
Heavy duty MD-300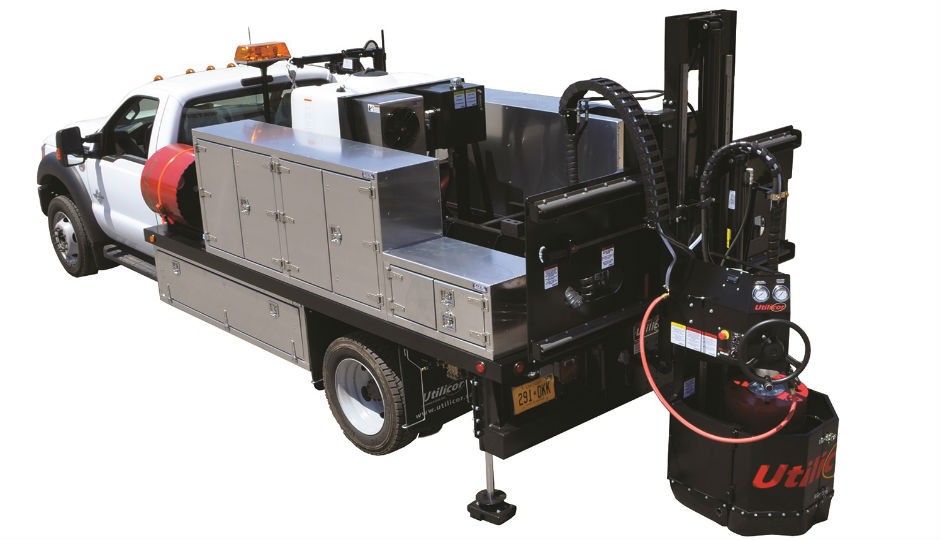 Utilicor Technologies MD-300 heavy duty multi directional keyhole coring unit is equipped with the Travesacor core-zone extension system that allows the core drill to extend 12 inches out from the back of the truck and travel across the full width of the deck. This facilitates precise set up and gives the crew the flexibility to core anywhere within a 22 square foot area behind the truck all without repositioning the vehicle.
Like all Utilicor coring equipment, the powerful core drill effortlessly and accurately cuts up to 24-inch diameter cores through all kinds of pavement up to 22 inches deep with an integral central pilot bit that simultaneously cuts a pilot hole. This unique process simplifies core extraction and allows for efficient reinstatement of the core back into the roadway or sidewalk using Utilibond Permanent Core Bonding Compound.
Versatile storage includes five deck mounted tool boxes (2 under deck 84 in. L x 20 in. H x 20 in.) (2 deck mounted x 84 in. L x 34 in. H x 18 in. D) (1x deck mounted 36 in. x 17 in. x 18 in.") and open deck mounted storage area.