Vacall Hydro Excavators
Now feature step-in compartment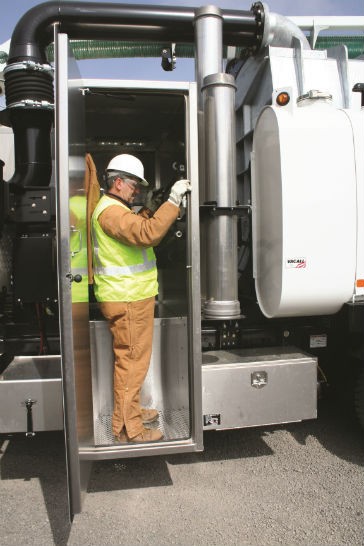 Vacall AllExcavate hydro excavators now feature a new step-in compartment to provide operators with warmth and protection from inclement weather – an especially welcome advantage on winter-weather digging sites or oil and gas exploration locations.
The standard heated compartment is roomy, with enough space for an operator to change out of wet and muddy boots and clothing. The compartment also has floor drainage, racks to hang dry clothing and another rack to store the high pressure hand gun and extensions. Even larger compartments with extra room are among the AllExcavate options. Ideal for cold weather job sites, Vacall hydro excavators have a range of features to maintain productivity when temperatures drop below freezing.
Along with new LED lighting, the cold weather package includes extra insulation, heated cabinets for the hose reel and water pumps, and boilers that can heat water for more effective hydro excavation in frozen ground.
The Vacall AllExcavate is ideal for excavating soil, rocks and clay. Simultaneously, the AllExcavate uses high pressure jetting action to loosen material and then the industry's strongest vacuum forces (up to 27-inch HG and 5,800 CFM) to remove the material and water slurry into a debris tank.