Vermeer Corporation Announces Family Succession Plans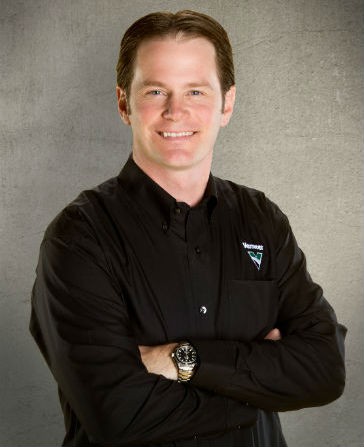 As part of its family succession planning process, Vermeer Corporation has announced that third-generation family member, Jason Andringa, will serve as the company's next President & CEO effective Nov. 1, 2015.
On Nov. 1, 2014, Jason will assume the role of President & Chief Operating Officer for one year, when he will transition to the role of President & CEO of Vermeer Corporation. He currently serves as President of Forage and Environmental Solutions.
"Gary Vermeer, my grandfather and Vermeer founder, was very influential for me personally and professionally," said Jason Andringa. "Since a young age, I had a passion to follow in his footsteps. In the mid-90s, I traveled on a business trip overseas with my mother, Mary, and saw firsthand the global demand for Vermeer equipment and the impact it was making on local communities across the world. That trip solidified my path to Vermeer. I am honored to have the opportunity to lead Vermeer as a family-owned and operated, global company into a prosperous future."
Mary Andringa, current President & CEO, will assume the role of CEO & Chair of the Board Nov. 1, 2014. Mary will transition exclusively to Chair of the Board Nov. 1, 2015.
"I look forward to working closely with Jason this coming year to prepare him for the transition to CEO in Nov. 2015," said second-generation family member Mary Andringa. "As an entire family, we are proud to announce the third-generation leadership who we know with confidence can propel us to new heights."
Bob Vermeer, current Chairman of the Board, will assume the role of Chair Emeritus. The honorary role for individuals who served as Vermeer CEO or Chair of the Board will be effective Nov. 1, 2014.
"The Vermeer family and Board of Directors have worked diligently for more than two decades to establish a robust and extensive family employment policy and succession planning process," said Bob Vermeer, second-generation family member. "We are confident that Jason's education and experience have prepared him exceptionally to lead the company."
About Bob Vermeer
Bob Vermeer is currently Chairman of the Board of Vermeer Corporation. Mr. Vermeer is continuing the family legacy of his father and company founder Gary Vermeer. Bob also served as Chief Executive Officer of Vermeer beginning in 1989, and later Co-Chief Executive Officer from 2003-2009.
As a trusted advisor within the heavy equipment industry in Iowa and throughout the world, Bob served as Chair of both the Association of Equipment Manufacturers (AEM), and the Iowa Business Council. Bob continues to serve as board member for the AEM, promoting business and industry needs locally and globally.
Bob is a valued consultant for his manufacturing, business and financial experience, which has resulted in several board roles, past and present, including membership on the Central College Board of Trustees, Dordt College Board, Guide One Insurance Co. Board, Marion County State Bank Board, Calvin Theological Seminary Board of Trustees, Pella National Bank Board, Pella Community Hospital Board, Pella Opera House, Hilltop Manor Board, Pella Chamber of Commerce, Pella Planning & Zoning Committee and Vital Men Ministries. In addition, Bob has committed himself to countless philanthropic endeavors as Trustee of the Vermeer Charitable Foundation.
Bob received an Economics and Business Administration Degree from Central College. He and his wife, Lois, live in Pella, Iowa; and have three children and nine grandchildren.
About Mary Andringa
Mary Vermeer Andringa is currently President and Chief Executive Officer of Vermeer Corporation. Ms. Andringa is continuing the family legacy of her father and company founder Gary Vermeer.
She recently concluded her two-year term as chair of the National Association of Manufacturers, the nation's largest manufacturing association, leading efforts to promote a stronger manufacturing industry. Ms. Andringa is one of 18 private sector members of President Obama's Export Council, where she represents manufacturing on important trade matters. Ms. Andringa is also a member of the Export Import Bank Advisory Committee. In 2013, Ms. Andringa was inducted into IndustryWeek's Manufacturing Hall of Fame.
In addition, Ms. Andringa is a Member of the Vermeer Board of Directors; Director of the Herman Miller Co. in Zeeland, Michigan and Milliken & Company in Spartanburg, South Carolina; Past Chair of the Iowa Association of Business and Industry; Trustee for the Fuller Theological Seminary in Pasadena, California; and Trustee Emeritus at Central College.
After receiving her degree from Calvin College in Grand Rapids, Michigan, she taught in the Iowa public school system and later in Omaha, Nebraska, for approximately six years. Mary and her husband, Dr. Dale Andringa, have two children and six grandchildren.
About Jason Andringa
Jason Andringa is currently President of Environmental and Forage Solutions at Vermeer Corporation. Jason is a third-generation family member involved in the business started by his grandfather and company founder Gary Vermeer.
Prior to his current role, Jason served as Vice President for Dealer Distribution and Global Accounts. He also spent three years in the Netherlands as Managing Director for Europe, Middle East, Africa and CIS.
Jason provides board leadership for a number of Vermeer subsidiaries and also serves on the Board of Directors for Raven Industries, Board of Advisors for Camcraft and the Board of Trustees for The Nature Conservancy of Iowa.
Before joining Vermeer in 2005, Jason was a staff engineer at NASA's Jet Propulsion Laboratory. Jason graduated with a Bachelor of Science in Mechanical Engineering from Calvin College and later pursued advanced degrees including a Masters of Science in Aeronautics and Astronautics from MIT and a Masters of Business Administration from the University of Southern California. Jason and his wife Carrie, live in Pella, Iowa with their three children.