Trench Boxes Create Safe Environment For Workers On Pipeline Project
United Rentals uses just-in-time supply and UR Control technology on 9B pipeline project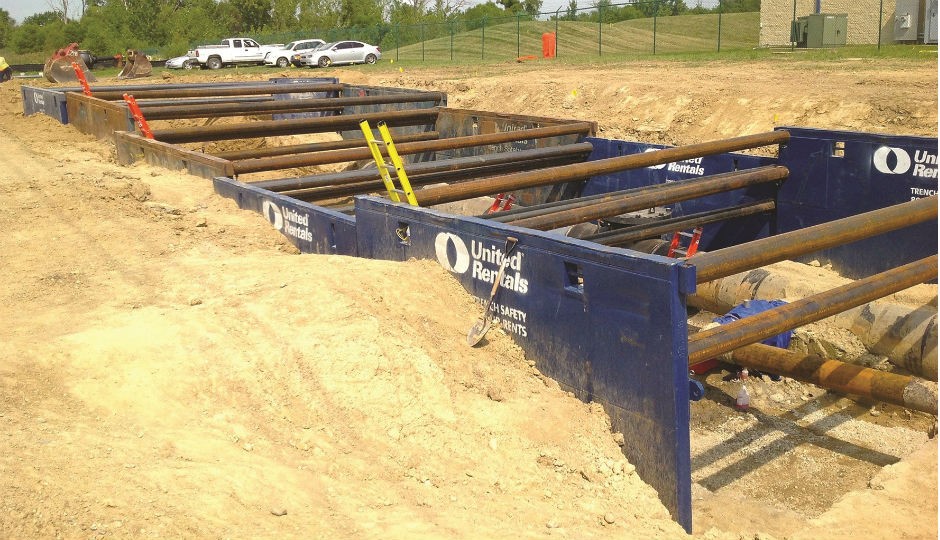 A high-profile infrastructure project of the Eastern Canada Refinery Access Initiative has proven to be a safe fit for the large-scale application of trench boxes. The Line 9B Reversal spans a 639-kilometre section of 762-mm (30- inch) pipe running from North Westover, Ontario, to Montreal, Quebec. The project received National Energy Board approval in March of this year.
Line 9B, currently a static pipe, is in the process of being reversed from its original Montreal-to-Sarnia flow. Once completed, the pipe is expected to flow approximately 300,000 barrels per day of western Canadian crude oil from Sarnia to Montreal. This reflects a capacity increase that will be addressed by modifications made within the existing facility boundaries.
In February, United Rentals Trench Safety secured a contract for the rental of trench boxes to protect workers during work on an Ontario portion of the line. Peter Tyrrell of the United Rentals branch in Bolton, Ontario, notes that the project is just one example of a vibrant infrastructure environment that is attracting utility construction specialists to eastern Canada from across the country.
Because 9B uses an existing line, the construction process requires meticulous underground imaging to determine the condition of the pipe, Tyrrell explained.
"If a potential flaw is found, its location is pinpointed and that part of the pipe is uncovered for repair. Our trench boxes create a safe environment for the sandblasters to clean the exposed pipe, and the welders to replace the section. It's very clear that safety is a priority on the 9B reversal – we were well-prepared for that, as it's how we approach each job we're on."
United Rentals' scope started out small and grew quickly, Tyrrell said. "Initially it was a couple of steel road plates and some sheeting, and then we had 55 trench boxes on site. We brought in 25 or 30 boxes from our national network, and invested in purchasing another 25 new boxes. I don't know if any other supplier could have deployed that depth of resources so quickly."
Just-in-time equipment solutions
Tyrrell made a point to be on site once or twice a week. "It allowed us to be responsive with the equipment needed at any given time. There was a big focus on productivity: nothing sitting around idle, costing money unnecessarily. We would get an order for six trench boxes and deliver them that same day."
To achieve this kind of responsiveness, United Rentals Trench Safety had to manage both its stock and its trucks. The company was able to deliver on each request within approximately four hours on average, to a site located 90 minutes from the branch.
"The equipment demand turned out to be a little atypical," Tyrrell noted. "Originally, we expected to supply four or five trench boxes that would be moved along the line as work progressed. But when it ran through sensitive terrain – at one point, a golf course – it was important to cause as little disruption as possible. So a vertical cut was made and the boxes were left in place."
To track the number of trench boxes on site, United Rentals verified that each box had a unique serial number and corresponding tabulated data. "We understood the need for stringent paperwork requirements, as well as strict equipment requirements that complied with OHSA," Tyrrell said. "It was a collaborative effort by our branch team at Bolton, including manager Paul Gaspar, to make sure it went off without a hitch."
Technology equals transparency
Tyrrell cites UR Control, a customer-facing web technology developed by United Rentals, for helping to manage the rented equipment on site. "UR Control is a password-protected portal that lets customers see what they have on rent, call items off-rent online, adjust purchase orders and print out invoices. And from our perspective, it gives us immediate visibility into any issues so that we can solve them quickly. The mobile app, UR Jobsite, make the benefits directly accessible on site or in a vehicle – wherever the customer may be."
The visibility provided by UR Control means complete transparency, Tyrrell said. "The customer can see exactly what is being charged, what the rates are, what the rental terms are, everything." In the case of Line 9B, the portal also showed what trench boxes were active by serial number at any given time.
In addition to trench boxes, United Rentals provided steel road plates used to protect right-of-ways during construction work, and steel sheet piling. All of the items started out as rental items, Tyrrell said, after which some were converted to customer purchases.
Now, with its initial contract complete, United Rentals Trench Safety will supply equipment to another utility contractor for the next stretch: approximately 150 kilometres of line. "It's proving to be a great opportunity to develop strong relationships with quality contractors," Tyrrell said. "We're committed to showing these customers that we're up to any challenge as we move down the line."
Related Articles
As one of the latest models in the R2-Series excavator lineup, the Bobcat® E88 delivers durability, performance and quality for more productivity. Technically speaking, it's a compact machine, but it brings big performance with its redesigned engine and optimized lift performance, plus undercarriage and counterweight improvements. All these enhancements make this excavator one of the highest-performing models in its size class. With impressive over-the-side lift capacity, you can dig with greater confidence over the side of the machine. Put it to the test against similar models from other manufacturers. You'll see that the E88 can outwork the competition.