Celebrating 2,000 Miles of Reliable Cable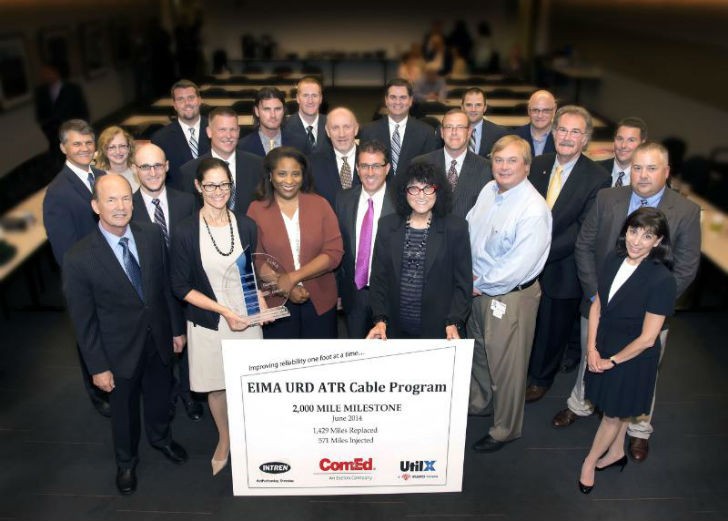 UtilX, a Willbros Group, Inc. company has announced the completion of 2,000 miles of underground cable (either injected or replaced), as part of a multi-year underground (URD) cable reliability program. UtilX celebrated this milestone with the partners who made it possible, ComEd and Intren at ComEd's headquarters in downtown Chicago.
To date, more than three million feet of URD cable on the ComEd distribution system have been injected using CableCURE technology. In this large project, UtilX has partnered with Intren, a Chicago-area cable replacement contractor. Together, UtilX and Intren have served ComEd with a comprehensive "Assess, Treat or Replace" (ATR) program. Program specs included:
Older cable in the ComEd URD system is identified and assessed, then determined to be either injectable or a candidate for replacement
The cable that can be treated is injected by UtilX using CableCURE fluids and methods
Cable that cannot be injected is replaced by Intren using primarily directional boring methods
UtilX has provided cable rejuvenation services for ComEd since 2007, and this particular large scale URD cable ATR reliability program ramped up considerably when the Electrical Infrastructure Modernization Act (EIMA) was passed by the Illinois legislature in 2011. As a result of this act, additional states have passed similar measures and more utilities will require large scale cable rehabilitation projects that may include injection as a cost savings component.
Nationwide, utilities are reinvesting in their infrastructure and focusing more on the reliability of their distribution grids. "Although UtilX has used its CableCURE process to rejuvenate more than 100 million feet of cable, there are still millions of feet of older cable in the ground that have not yet been replaced nor injected," said Jack Stel, UtilX President. "Without replacement or injection, failure rates will accelerate and utilities will have higher levels of customer complaints and regulatory non-compliance. UtilX is well-positioned to participate in this infrastructure reinvestment as the global leader in power cable life-extension technologies."