Metro Vancouver Sewage Could Heat Hundreds of Buildings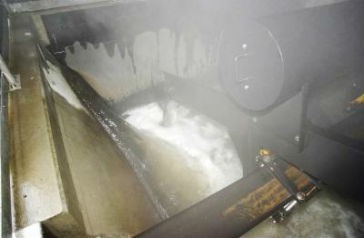 Metro Vancouver hopes to significantly reduce its greenhouse gas emissions by using the region's sewage to heat everything from hospitals to massive housing developments.
A Metro staff report suggests the regional district has enough heat coming from its liquid waste now to heat up to 700 buildings, even in winter, which would reduce greenhouse gas emissions by about 1.3 million tonnes per year. Sewer heat is considered a viable, low-carbon source of energy that can be used to provide hot-water heating, space heating and cooling in buildings.
"This kind of project reduces greenhouse gas emissions by replacing natural gas with a cleaner source of energy. It's using waste as a resource," said Jeff Carmichael, Metro's division manager of utility research and innovation.
The proposed strategy, cited as the first of its kind in Metro Vancouver, would see pipes or chambers diverted from the region's existing sewer lines to conversion facilities. Once there, the sewage pipes are surrounded by an external piping system that is warmed by proximity to the sewage as it passes. The raw sewage itself does not come in contact with the external system, neither does the air in the sewage pipes.
The facilities could be owned by individual municipalities or private entities, which would pay for the cost of the tie-ins to the sewer lines as well as the infrastructure needed for the heat extraction, Carmichael said.
They would not likely pay for the sewage at this time, he added, but this could potentially change over time if sewage, like water, becomes a commodity, pushing up the price. He noted the entities would sign a contact with Metro Vancouver that would be reviewed every three to five years.
"The cost of raw sewage is nothing. It's not worth anything until you extract the heat," Carmichael told Metro's utilities committee. "The sewage is free, but they would pay for the infrastructure costs for the extraction. We have to make sure these projects are viable."
The report noted the only known system currently in operation in North America is Vancouver's Neighbourhood Energy Utility in Southeast False Creek, including Olympic Village. The False Creek facility recovers heat from sewer effluent to heat 3.5 million square feet of residential and commercial space in several dozen nearby buildings, including the Telus World of Science, reducing greenhouse gas emissions by about 60 per cent compared with natural gas.
That system will expand to include the Great Northern Way Campus, while other municipalities, including Richmond, North Vancouver City, Surrey and New Westminster are also looking at developing partnerships for district energy systems powered by sewage. New Westminster Coun. Chuck Puchmayr said the expansion of Royal Columbian Hospital Fraser Health is moving ahead on that premise, while the city is also considering using sewage-powered heat for a commercial and residential development at Sapperton Green.
Metro Vancouver has adopted a target of reducing greenhouse gas emissions by 15 per cent by 2015 and 30 per cent by 2030 from 2010 levels. But North Vancouver City Mayor Darrell Mussatto, chairman of the utilities committee, warned there are huge risks involved in district heating and suggested Metro revise parts of the policy before it goes to the entire board for a vote.
Related Articles
As one of the latest models in the R2-Series excavator lineup, the Bobcat® E88 delivers durability, performance and quality for more productivity. Technically speaking, it's a compact machine, but it brings big performance with its redesigned engine and optimized lift performance, plus undercarriage and counterweight improvements. All these enhancements make this excavator one of the highest-performing models in its size class. With impressive over-the-side lift capacity, you can dig with greater confidence over the side of the machine. Put it to the test against similar models from other manufacturers. You'll see that the E88 can outwork the competition.