New Pipeline Support Method Available to Pipeline Construction Market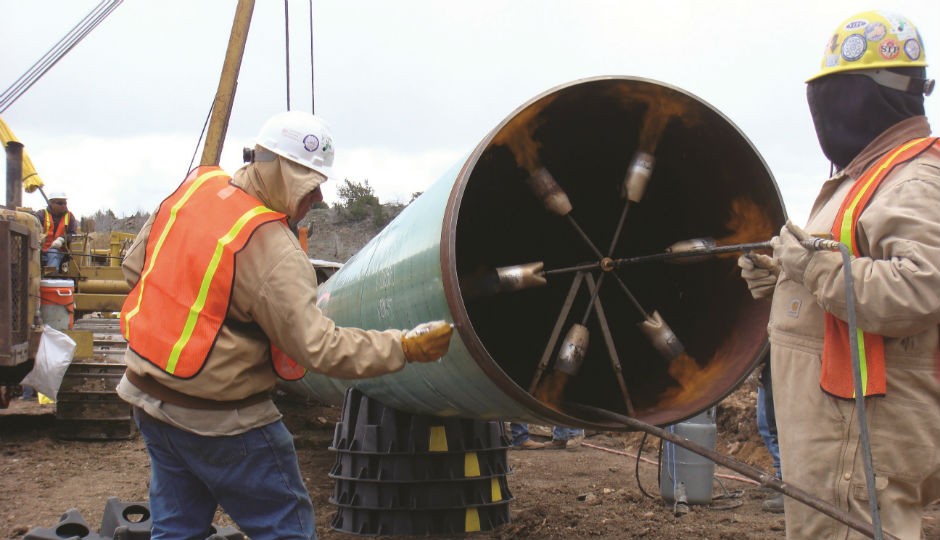 With a growing emphasis on pipeline integrity, engineers and designers are looking for the best, safest and most economical ways to build and protect their pipelines. Even with tough, modern pipeline coatings, additional protection is often necessary. A pipeline's safety and long-term integrity depends on it.
Historically, additional external pipe protection has been achieved through adding either a layer of sand or select backfill above and below the pipeline (sand padding) or by covering the pipe with a high-impact resistant, poly-type rock shield just prior to installing.
To facilitate sand padding and/or rock shield, some form of intermittent pipeline support (IPS) is required to elevate the pipeline off the rocky trench bottom.
With long-term pipeline integrity continuing to be a significant concern for all pipeline owners and contractors it was time that a more 'engineered' and tested method of support be manufactured, something that can be relied on for the life of the pipeline. The structured pipeline pillow (SPP) achieves this – and then some.
Current pipeline support methods
The common methods for holding the pipe up off the trench bottom in rocky or stony areas are loose sand piles/pillows, sand bags, spray in foam and preformed foam pillows – each with significant drawbacks.
For larger pipelines, sand piles are difficult to install and a major contributor to pipeline ovality and denting when improperly placed. Additionally, loose sand tends to migrate easily as groundwater percolates back into the trench lessening its ability to support the pipeline.
Sand bags require hand placement to achieve proper, level support for the pipeline. In open trenches, this can be time consuming and unsafe. Improper placement can again cause the pipe to oval or dent.
Spray-in foam shields cathodic protection currents wherever it touches the pipe. Newly constructed pipelines full of hydrostatic test water and one metre cover can cause foam to compress excessively.
Preformed foam pillows are light and easily placed but can float out of position and compress or crack under heavy loads. As with all foam, cathodic shielding is always a concern.
In summary, both spray and preformed foam pillows remain the most common method of in-trench pipeline support. The obvious fact that foam shields cathodic protection (CP) systems has been consciously overlooked due to the apparent support abilities of foam. This has been particularly important for large diameter pipelines, which are most susceptible to ovality and denting.
Structured pipeline pillows
A new engineered-innovation pipeline support product is now available to the pipeline construction industry. The intrench structured pipeline support (SPP – or the PipePillo, as named by manufacturer PipeSak Inc.) is an engineered solution for areas of stone and rock. The product is the first permanent, structured pipeline support, replacing spray in foam pillows, sand bags and sand piles.
The structured pipeline support can also be used outside of the trench for low level stringing and welding.
The following criteria were considered for the ideal pipeline pillow:
Contact area with the pipe surface should be porous enough to allow free flow of groundwater and cathodic protection currents yet large enough to keep coating stresses low.
Easy installation while maintaining worker safety.
Light enough to be handled individually.
Material density that will not damage coating or create ovality while being strong enough to support the pipe filled with test water and overburden.
Resistant to a wide range of chemicals (pH) found in soil.
UV resistant.
Must maintain pipe clearance for the life of the pipeline.
Through the use of engineering software, finite element modelling and numerous virtual iterations a dual frustoconical design was chosen. With a shape determined, physical models were created and large scale field testing began. It was concluded that the use of high strength, environmentally inert polypropylene or polyethylene resins injection molded into the dual frustoconical shape met all the design criteria.
The SPP is manufactured in two heights. A height of 152 mm (6 inches) for pipe diameters less than 610 mm (24 inches) and 203 mm (8 inches) for pipe diameters greater than 610 mm (24 inches).
With the addition of load bearing, stacking shoulders variable clearances can be achieved by stacking two or more SPP supports in 76 mm, 152 mm and 203 mm (3, 6 and 8-inch) increments. Stacking SPP supports provides a safe and costeffective alternative to using wooden skids to support the pipe stringing and welding process above ground.
To calculate proper SPP spacing, the weight of the pipe, soil overburden, hydrostatic test water and a factor of safety are all entered into a simple spreadsheet.
The factor of safety is a critical component in the design to not only accommodate any long-term creep of the plastic but also to help offset any minor misplacement by field staff during the installation process.
Optimum SPP spacing can then be determined along with the coating, pipe stresses and deflections the pipe may experience – all very minimal.
Installation methods
There are two recommended installation methods for the SPP: installation from outside the trench using a 5-cm x 10-cm (2-inch x 4-inch) installation rod placed through the opening in the centre of every SPP; or use of a hydraulically controlled installation attachment connected to an excavator bucket. The hydraulically controlled arm can hold up to 20 SPP supports at a time and releases them individually at predetermined locations at the flip of a switch.