Concrete Conduit Challenges Pipe-Bursting Contractor
Trenchless contractor finds creative solution when faced with 8 inches of concrete and 1 inch of rebar in Medicine Hat pipe bursting project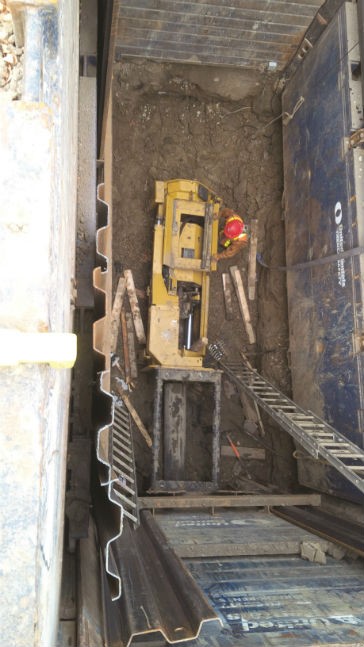 One of the most effective ways of replacing a pipe using trenchless technology is pipe bursting, which replaces a traditional construction trench with launching and receiving pits that pull the new pipe through the existing one, breaking the old pipe into fragments that stay in the ground in-situ.
Sewer, water and gas pipes can all be replaced with pipe bursting, which involves a bursting head, winched cable or shuttle rods, a pulling machine, a retaining device and a hydraulic power pack. Patented by British Gas in the 1960s, pipe bursting is now a proven trenchless technology, with over 50 million feet installed worldwide.
The primary advantages of pipe bursting are the time saved by avoiding digging a trench to lay the pipe, and its minimal impact on vehicle and pedestrian traffic, compared to a major disruption involved in opencut construction. A pipe can be burst and a new, often upsized pipe pulled through in a day or two, or even less, depending on the length of pipe and the level of difficulty.
One of the nice things about pipe bursting is its versatility. The method can be utilized to replace pipes made of clay, concrete, reinforced concrete, PVC, ductile iron, and even asbestos concrete (AC). And with pipe bursting, most of the time the pipe is upsized, meaning a gain in interior pipe diameter. Compare that to cured-in-place-pipe (CIPP), where a deteriorated pipe is re-lined, resulting in a loss of IP diameter.
Unexpected encounter
A big challenge facing a pipe bursting contractor is buried concrete that is sometimes encountered while the pipe is being burst. That is what happened to 3D Pipe Bursting during a recent job in Medicine Hat, Alberta.
The Millet, AB-based company is one of the few Canadian trenchless contractors that focuses exclusively on pipe bursting.
The Medicine Hat job involved replacing a 15-inch sanitary line with a 13.7-inch (350-mm) HDPE pipe, for a length of 590 feet (180 metres) at a 26-foot (8-metre) depth – a few metres deeper than 3D's average depth on a pipe bursting job.
The burst was going well up to the 180-foot (55-metre) mark, when all of a sudden, the hydraulic power source started pulling from about 40 tons, to 75 tons for a metre, and at one point, powered all the way up to 125 tons of pulling force.
"There was something on the outside of the pipe. They had to dig, which was very challenging at that depth. It was a big concrete Telus conduit over the top of where we had to dig, so they dug down, found about 8 inches of concrete around the pipe with one-inch rebar in it," said 3D Pipe Bursting president Darren Norton.